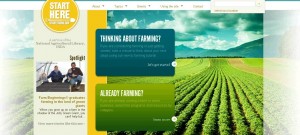 When I first began farming, the best advice I received came from my neighbors and the local University Ag Extension Office.  The time honored tradition of trial and error was really my business partner in the field.  I learned that networking, mentorship and agricultural education were key resources within agricultural community.
As the largest farm state, California has a variety of programs and resources available to assist the next generation of farmers and ranchers. From the Agriculture and Land Based Training Association (ALBA) to California FarmLink  and the Farmer-Veteran Coalition to my own Farm Academy  – California has a strong network to help assist those individuals interested in farming.
On the national level, the USDA is helping as well. A new website www.Start2Farm.gov is a partnership between the USDA's National Agricultural Library and the American Farm Bureau Federation to connect beginning farmers and ranchers with available resources and programs. This website is a valuable tool to assist with the great interest in farming we are seeing across the state and nation.
USDA Secretary Vilsack has indicated that we need 100,000 new farmers to meet growing demand domestically and abroad. The more we can encourage and support those individuals interested in providing food for our tables the closer we can get to this national goal.