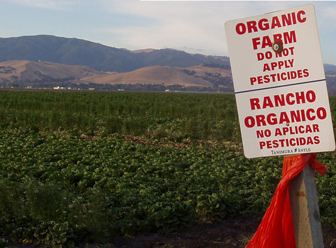 Many organic farmers have dreams of a conservation project they would love to tackle: a multi-purpose hedgerow; an efficient, water-saving irrigation system; a comprehensive plan to build organic matter; a hoop house to extend the local growing season. But the day-to-day demands of farming can leave those dreams stuck on a back burner.  However, help is available to help organic and transitioning farmers get cooking on those projects, utilizing technical and financial assistance from USDA's Environmental Quality Incentives Program (EQIP). Over 200 Californians are already participating. The deadline to apply this year is April 19, 2013.
"I simply didn't know about EQIP or NRCS," says Bill Jessup who grows organic citrus in Thermal, CA. NRCS is Natural Resources Conservation Service, the branch of USDA that runs EQIP and helps farmers develop and sometimes fund conservation plans to enhance their farms or ranches.  "I was interested in using hedgerows and windbreaks but I wasn't able to tackle it," says Jessup. "My buyer suggested I contact NRCS.  The process was painless. Sam, the local conservationist, came to my farm and gave me ideas, but it's your choice.  I ended up including not only the hedgerow in my conservation plan but also nutrient and residue management—and NRCS helped me plan and fund it."
Currently California has $3.5 million available for 2013 for organic and transitioning farmers who apply for EQIP, says Alan Forkey, NRCS Assistant State Conservationist for Farm Bill Programs in California. Organic producers can receive up to $20,000 per year or $80,000 over six years through the special EQIP funding available only for organic producers and those transitioning to organic. The assistance targets over two dozen core conservation practices, including conservation crop rotation, cover crops, nutrient management, pest management, prescribed grazing and more.
Forkey says that there may be some confusion this year because some 2008 Farm Bill provisions, such as the cost share assistance for organic certification, expired at the end of 2012 and are not available this year.  The conservation programs, however, remain in effect—but the window for funding is closing quickly. Assistance is available and applications are taken at all 55 NRCS offices throughout California. To find the office nearest you go to http://www.ca.nrcs.usda.gov/contact/.