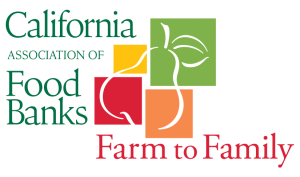 California is a bountiful state full of some of the most generous and productive land, as well as people. Farmers care deeply about their local communities and many of them contribute to food banks through California Association of Food Banks' Farm to Family Program. This December is Farm to Food Bank Month and I want to thank the farmers who have so generously donated more than 150 million pounds of fresh, California-grown fruits, vegetables, nuts, dairy and other farm products in 2015.
For those unfamiliar with the program, Farm to Family works with growers, packers and processors to get nutritious farm products distributed to families in need of a little help. We handle all logistics and can work quickly to get surplus or secondary products into a truck that distributes food first to local food banks and then beyond. Farm to Family works with each donor to make sure the program seamlessly fits within existing operations to make participation easy and hassle-free.
Not too long ago, the bulk of products distributed through food pantries were dry goods and other shelf-stable foods. Since then food banks have invested in infrastructure such as cold storage facilities that can house fresh fruits and vegetables, which, believe it or not, are luxury items for many families struggling to make ends meet. With 43 member food banks in our association, needy families throughout the state may gather around their tables and enjoy food they would not be able to afford at the grocery store.
We know it takes a lot for farmers to get product from the field to the marketplace. If outright donations aren't possible, Farm to Family can work with farmers to offer a small reimbursement to help cover picking and pack out costs. Additionally, many Farm to Family participants can also claim a state tax credit and federal tax deduction.
We're grateful to the farmers who make California the best food producing state in the nation, and especially those who choose to give back to their community through the Farm to Family program. Please consider making a donation or pledging a contribution from the next harvest season. Contact Steve Linkhart at stevelinkhart@cafoodbanks.org or 510-350-9916.