Courtesy of Visit California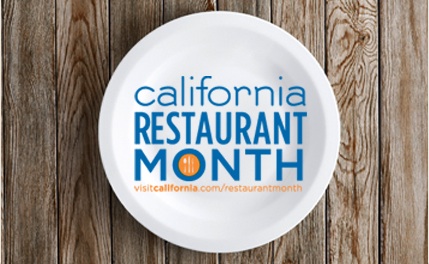 Go ahead and stuff yourself this holiday season, foodies, but make sure to leave a little room for California Restaurant Month, which runs throughout the month of January. For 31 flavor-filled days, dining establishments across the state will feature gourmet prix-fixe menus, wine-pairing specials, chef-led events, and all of the seasonal ingredients you'd expect from the state that produces nearly half of all American-grown fruits, nuts, and vegetables.This annual event is the perfect time to treat yourself to that urban hot spot you've always wanted to try. Or perhaps it will tempt you to take a culinary road trip to California's incomparable wine country, coastal towns and villages, or alpine resorts. Here are special programs and deals, listed north to south, that prove that January is the best month to come get a taste of California.
EL DORADO EPICUREAN COLLECTION OF CULINARY ADVENTURES
Tour farms and vineyards during a month-long celebration
Here's a great reason to bundle up and explore the Gold Country this January. Throughout the month, join special guided tours of working farms and boutique vineyards dotting beautiful El Dorado County, in the Sierra foothills. These tours and a full crop of other special events are part of the "El Dorado Epicurean Collection of Culinary Adventures" celebration, a unique program that's part of California Restaurant Month.
In addition to guided walks and tours, you can take off on your own culinary-centric experience. Follow the county's winding country roads to discover wine-pairing specials, gourmet prix fixe dinners, cooking demonstrations, and special discounts on food, wine, and accommodations. It's a great way—and a great time—to explore this Gold Country gem.
Note: El Dorado Culinary Adventures are offered January 1-31, 2016.
Sample farm-to-fork cuisine in this new culinary hot spot
California pretty much has a lock on the country's farm-to-table movement, and though chefs focus on locally sourced, seasonal ingredients statewide, the style of cooking has a rich home in the state capital. Nicknamed "America's Farm-to-Fork Capital" and recently dubbed "the Next Great American Food City" by Southwest magazine, Sacramento now ranks as a true food destination—and January is the perfect time to sample it for yourself.
Dine Downtown 2016 returns to the state capital for the 11th year, with 10 days of celebrating innovative restaurant concepts and culinary experiences citywide. Nearly 30 restaurants let you sample specially prepared three-course meals—for just $35—at local favorites including Ella Dining Room & Bar and The Firehouse. Another plus: $1 from each Dine Downtown meal will go to Sacramento's Food Literacy Center. Great food, great cause.
Note: Sacramento's Dine Downtown runs January 7-16, 2016.
Get a big break on world-class dining
Touting restaurants with enough Michelin stars to fill a galaxy, all nestled in ultra-picturesque wine-country towns and surrounded by best-of-the-best vineyards, the Napa Valley justifiably ranks as one of the world's essential must-sees. But here's a secret: Visit one special week this January, when crowds drop away and the valley relaxes with a wintry sigh, to experience not just the quieter side of this legendary wine region, but also amazing multi-course prix fixe menus at deeply discounted prices.
It's all part of Napa Valley Restaurant Week, when you can sample the region's good life for less. Think gourmet lunches for just $20, and exquisite dinners prepared by top chefs for $36 to $46. Plan a getaway to visit hot spots you've always wanted to try, or make a reservation at an old favorite. Be sure to add visits to tempting wineries—tasting rooms are relaxed and unhurried this time of year. Oh, and luxury lodgings? Napa has some of the finest in the state. So really—what are you waiting for?
Note: Napa Valley Restaurant Week runs January 24-31, 2016.
Find multi-course deals an easy hop east of San Francisco
In a city as eclectic and multicultural as Berkeley, home to Alice Waters' groundbreaking Chez Panisse restaurant, it's not surprising that the city has a global cornucopia of food outlets and eateries. People in this diverse city, just a bridge away from San Francisco, know good food and expect top ingredients from local sources. And it better be organic! So when there's an entire week of special restaurant offerings here, visitors should sit up and take notice—even better, plan a trip to take advantage of all the deals and special events. Some of the Bay Area's most innovative chefs are opening new restaurants here, or new branches of San Francisco favorites, and many of them will be showcasing amazing menus and special offerings all week long.
So plan a perfect day here: Stroll through redwood-shaded Tilden Park (and take a spin on an antique carousel), go to the top of the Campanile at University of California, Berkeley, for amazing views of the sparkling San Francisco skyline across the bay, and then settle in at your table, order a delicious California wine, and get ready for greatness.
Note: Berkeley Restaurant Week runs January 21-31, 2016.
Big savings on some of the world's best food
Any trip to San Francisco will likely put you back a belt notch or two, and that's especially true in January, with special deals at more than 100 restaurants citywide. For 12 deliciously tempting days in January, SF Restaurant Week lets you snag a seat at some of the city's most coveted tables—without the sticker shock. Multi-course prix fixe lunches go for just $15 to $25, while dinner menus range from $40 to $65. Amazing, right?
To top it off, you'll not only get a memorable meal for a great price, but you'll also be supporting important community grants in the San Francisco Bay Area. In 2016, SF Restaurant Week partners with the 50 Fund—the Super Bowl Host Committee's Legacy Fund, designed to support low-income children, youth, and young adults. So dig in, and do a good deed, too.
Note: SF Restaurant Week runs January 20-31, 2016.
Be the lucky one to get treated to dinner
This January just might be the tastiest time ever to visit the Tri-Valley, the sunny stretch of rolling hills, lush vineyards, and friendly communities less than an hour's drive east of the Golden Gate Bridge. For three tempting weeks in January, you could get a New Year's surprise, when a roving Secret Sommelier could pick up your tab at participating restaurants that serve local Livermore Valley wines.
The Tri-Valley region, cradling Pleasanton, Livermore, Dublin, and Danville, may be booming, but it's still easy to tap into the region's American-classic charm and rich wine heritage. Lively farmers' markets pop up year-round, a great way to mingle with locals. Relaxed tasting rooms invite you to sip award-winning vintages along Tesla Road and other uncrowded routes lacing Livermore Valley. Pretty downtown areas are dotted with inviting restaurants and cafes—made all the more inviting when you know a Secret Somm could be inside.
Note: The Tri-Valley Secret Somm event runs January 9-31, 2016.
MADERA COUNTY RESTAURANT MONTH
Enjoy a month of offerings in the gateway to Yosemite
California's rolling Sierra foothills first made their mark with gold. Now they stand out as a food and wine hot spot, with family-owned restaurants and wineries dotting the region. Madera County, stretching from the sunny San Joaquin Valley east into the High Sierra, is a great place to discover the region's diverse offerings, especially during California Restaurant Month.
Throughout January, participating restaurants will present special offerings that showcase the region. Whether you're traveling through on your way to explore wintry Yosemite or want to take a relaxed road trip through the peaceful foothills, you'll find delicious meals in appealingly low-key settings. Relax in a window seat at Ducey's on the Lake with pretty views of Bass Lake. Sample fresh, locally sourced foods and wines at award-winning The Vineyard, a casually elegant restaurant in Madera. Or, in Oakhurst, sit at the comfortable wood bar to sip craft brews and enjoy handcrafted American pub fare—perhaps a mountaineer pizza with fennel sausage and mushrooms—at South Gate Brewing Co. It's a month of foods as diverse as the winter beauty outside the windows.
Note: Specials will be offered January 1-31, 2016.
SANTA YNEZ VALLEY RESTAURANT WEEK
Enjoy great deals on tasting menus in celebrated wine country
Exploring the picture-perfect back roads and charming towns of the Santa Ynez Valley, stopping here and there to sip an award-winning Pinot Noir, is pretty fantastic. Add special three-course tasting menus for just $20.16 (tax, tip, and drinks extra), and a visit to the Santa Ynez Valley becomes a downright must-do.
Back for its sixth year, Santa Ynez Valley Restaurant Week stands out as the picturesque wine region's annual homage to all things food and wine. Top chefs from more than 20 restaurants—from up-and-coming eateries to longtime favorites—create culinary magic for one ultra-low price. It's a perfect reason to visit the valley's richly historic communities: Solvang (settled by Danish-Americans in 1911), wine-infused Los Olivos, vintage Western Los Alamos, low-key Ballard, bustling Santa Ynez, and under-the-radar Buellton.
Note: Santa Ynez Valley Restaurant Week will run January 24-30, 2016.
Honor (and eat) an American classic all over town
If the idea of a gooey-delicious slab of cheese topping a juicy burger is your idea of foodie heaven, get thee to Pasadena this January. For one week, this well-heeled Southern California city, just 10 miles northeast of Los Angeles, lets you indulge your passion for cheeseburgers at 40 of Pasadena's favorite restaurants, lounges, burger joints, and roadside stands. Why the focus on this all-American classic? Back in 1924, young Lionel Sternberger, working at his father's roadside burger stand, got the idea of topping a patty with a slab of cheese. Little did Lionel know he was creating culinary kismet.
Take part in the city's homage as restaurants create unique twists on the classic cheeseburger, with combos created especially for Cheeseburger Week. Whether you like a classic version, lean toward veggie options, or enjoy other ingredients piled high, you'll find the cheeseburger of your dreams in Pasadena.
Note: Pasadena's Cheeseburger Week runs January 10-15, 2016.
Enjoy a low-key surf scene and great dining deals
Visit this laid-back surf town during January for brisk walks on miles of unspoiled beaches, then pop into friendly restaurants for everything from fresh seafood to classic burgers to smart twists on Mexican fare (lobster tacos, anyone?). Even better, for one week in January, get special prix fixe meals at great prices, like a $19.95 three-course feast at Lobster West. Or, at another participating restaurant, Union Kitchen & Tap, choose among creative dishes, such as Scottish salmon with braised artichokes, cherry tomatoes, fennel, Kalamata olives, and confit leek rings, as the centerpiece for a $30 complete dinner.
Encinitas, roughly 25 miles north of San Diego, has the kickback vibe you'd expect, dotted with coffeehouses, record stores, and surf shops. Around town, discover lush nurseries and gardens—Encinitas is the world's leading grower of a wintertime favorite, the poinsettia, and is home to the San Diego Botanic Garden. Spend the day exploring these lush oases, then enjoy a special meal at a great price.
Note: Encinitas Restaurant Week runs January 17-23, 2016.