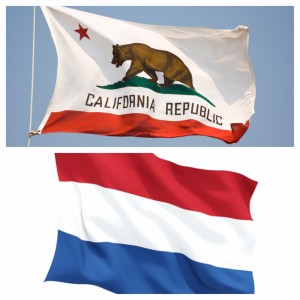 The California Department of Food and Agriculture and the Ministry of Economic Affairs in the Netherlands will co-host a joint webinar on Climate Smart Agriculture on July 7, 2016. The webinar will feature discussions and presentations addressing salinity in specialty crops within California's Central Valley and along coastal areas.
"Climate Change is furthering collaboration around the globe among farmers and researchers to address strategies for improving agricultural production and sustainability," said CDFA Secretary Karen Ross. "The Netherlands is a good example for practices and approaches on climate smart agriculture that can be beneficial to California."
The webinar will be held on July 7th from 9 a.m. to 11 a.m. in California and individuals can register for free at – https://www.cdfa.ca.gov/climatesmartag/ The webinar can also be viewed live at the California Department of Food and Agriculture, 1220 N Street – Main Auditorium, on the day on the event.
Saline agriculture, the ability to produce crops with brackish water and in high salinity soils, could potentially be of interest to California farmers who encounter these growing conditions. This webinar will feature an overview by Arjen de Vos of Salt Farm Texel, a producer of saline agriculture in the Netherlands, as well as perspective from California State Board of Food and Agriculture member Don Cameron, of Terranova Ranch, a diversified farming operation in the Central Valley. Researchers from Wageningen UR and University of California will also provide perspective.
The Climate Smart Agriculture webinar is the first in a series of online discussions on Climate Smart Agriculture to be hosted in the coming months in collaboration with the University of California's World Food Center.