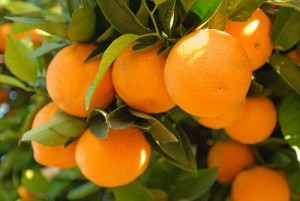 The USDA's National Institute of Food and Agriculture (NIFA) has announced four grants totaling more than $13.6 million to combat a scourge on the nation's citrus industry, citrus greening disease, also known as Huanglongbing (HLB). UC Riverside will receive $5,112,000 of that funding for a program to design and identify bactericides that can cure or suppress HLB.
"The economic impact of citrus greening disease is measured in the billions," said NIFA Director Sonny Ramaswamy. "NIFA investments in research are critical measures to help the citrus industry survive and thrive, and to encourage growers to replant with confidence."
HLB is currently the most devastating citrus disease worldwide. It was first detected in Florida in 2005 and has since affected all of Florida's citrus-producing areas leading to a 75 percent decline in Florida's $9 billion citrus industry. HLB has also been detected in Georgia, Louisiana, South Carolina and Texas, as well as three residential communities in Southern California. Fifteen U.S. States or territories, including California, are under full or partial quarantine due to the presence of the Asian citrus psyllid (ACP), a vector for HLB.
Since 2009, USDA has invested more than $400 million to address citrus greening, including more than $57 million through the Citrus Disease Research and Extension Program since 2014.  Other projects in the current grant award include:
Clemson University, Clemson, South Carolina, $4,274,523
Iowa State University, Ames, Iowa, $2,476,099
USDA Agricultural Research Service (ARS), Athens, Georgia, $1,821,197
More information on these projects is available on the NIFA website.
Information on efforts to control the Asian citrus psyllid and stop HLB in California is available on CDFA's web site and the California Citrus Threat web site.