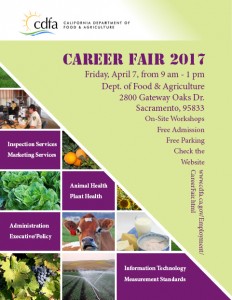 With an estimated 40 percent of all California state employees eligible to retire in the next five years, and nearly 50 percent here at CDFA, the agency recognizes a substantial need to recruit new employees and will hold its second annual career fair in Sacramento on April 7, 2017, from 9 am to 1 pm at 2800 Gateway Oaks Drive Sacramento, CA 95833.
Current and future job openings cover the full spectrum of programs at CDFA, including plant health; animal health; dairy food safety; weights and measures – including work in alternative fuels; information technology; marketing; climate smart agriculture; oversight programs for certified farmers markets and organic agriculture; and administration and other support functions.
The agency will need scientists and other subject matter experts as well as veterinarians, entomologists, chemists, technical specialists, analysts, and a full complement of support personnel.
So come on out and learn about career opportunities at CDFA!
2017 Career Fair Event Schedule