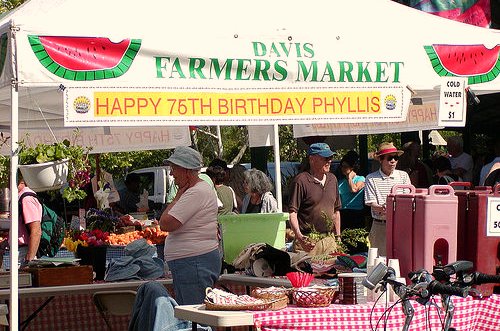 The USDA has proclaimed Aug. 6-13 to be National Farmers Market Week. This is the eighteenth year the USDA has supported local producers by encouraging families to meet and buy from farmers at local farmers markets.
The proclamation notes that farmers markets and other agricultural direct marketing operations contribute approximately $9 billion each year to the U.S. economy and serve as significant outlets by which producers market agricultural products, generating revenue that supports the sustainability of family farms and the health of rural communities nationwide.
California is the national leader in farmers' markets. More than 800 Certified Farmers' Markets operate in the state, offering the best in seasonal produce from approximately 2,500 licensed producers. Certified Farmers Markets began in 1977 following legislation signed by Governor Edmund G. Brown, Jr.
Throughout this dedicated week, thousands of farmers markets across the country will highlight the range of products  available from local and regional farmers. The USDA's National Farmers Market Directory makes it easy to locate farmers markets in towns and neighborhoods across the country, including California. Buying directly from farmers helps diversify farm incomes and supports other businesses by keeping more money in the local economy.
In addition to being good for the farmers and convenient for consumers, farmers markets are a gathering place that help build a sense of community.