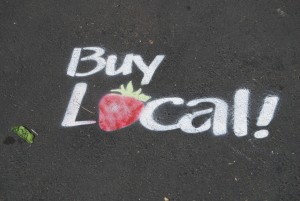 The Federal Reserve and USDA have unveiled a new report to showcase how local and regional food systems can help the economies of rural and urban communities, as well as increase access to healthier food and create a more productive workforce.
The report is intended to signal that local food is no longer just for "foodies," but instead is in high demand by consumers across the country and is ripe for investment and financing.
Through a compilation of research, essays and case studies, the report highlights possibilities like communities using regional food strategies to meet economic goals; opportunities in the regional food system sector; systems that benefit low- and moderate-income households; and models of partnerships between policymakers, members of the community, and the financial industry.
The report arrives at a critical time in light of the heightened attention to the condition of rural America, said Jen O'Brien Cheek, executive director of the Farmers Market Coalition. (A board member of the group contributed to the report).
"We want to bring in investors and institutions that offer loans and grants to make sure initiatives are supported, because it's been demonstrated that they have a lasting impact on economic prosperity," O'Brien Cheek said. "Really successful food systems respond to unique needs of a community."
The Federal Reserve Board of Governors, in partnership with the Federal Reserve Bank of St. Louis and the USDA Rural Development and Agricultural Marketing Service, hosted a forum to release the report, which explores "unanswered research, policy and resources gaps," that need to be addressed.