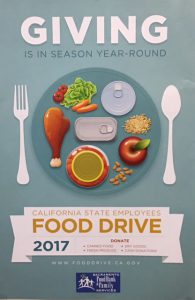 The annual California State Employees Food Drive, chaired by CDFA, is showing strong momentum as it aims for a goal of 800,000 pounds of food for needy Californians. CDFA employees are demonstrating the Department's commitment this season through a series of events.
Each year CDFA joins other agencies in placing barrels in common office spaces for donations, and each year the agency hosts "Coffee with the Secretary" to help fill those barrels. This year's event, bringing CDFA employees together with Secretary Ross in a casual holiday atmosphere, resulted in generous donations of food and cash.
Prior to Thanksgiving CDFA employees donated over 1,100 pounds of turkey to support the annual Turkey Drive. Turkeys were distributed by the Sacramento Food Bank and Family Services and helped provide Thanksgiving dinner for many in the region.
CDFA employees also supported the Food Drive by participating in the annual Run to Feed the Hungry, organized by the Sacramento Food Bank and Family Services. Registration fees alone raised over $500 and provided a great opportunity to get out and enjoy some exercise and fresh air before Thanksgiving celebrations.
The Food Drive kicked off on September 29 with a Certified Farmers' Market produce donation event in downtown Sacramento. A short time later CDFA organized a benefit golf tournament that raised enough money for 8,000 pounds of food, the equivalent of 6,667 meals. The golf tournament provided an opportunity for some of CDFA's stakeholders to participate in the Food Drive through sponsorships, including the California Strawberry Commission, the Olive Oil Commission of California, California Cherries, California Pears, and California Grain and Feed Association.  We appreciate their generosity.
The need for food in California is substantial. According to the California Association of Food Banks, 5.4 million Californians contend with food insecurity, which is defined as the occasional or constant lack of access to the food one needs for a healthy, active life. More than two-million of those people are children. That need is what motivates California state employees to commit to this effort each and every year.