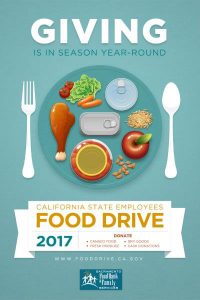 The final numbers for 2017 State Employees Food Drive are in and we are very pleased to note an increase in food donations compared to 2016!
CDFA and its Office of Farm to Fork coordinated the food drive from late September to early February, along with their partners at the Sacramento Food Bank and Family Services and 108 different assistance agencies statewide.
We set an ambitious goal for the year–800,000 pounds–and almost got there. The 2017 total was 783,683 pounds, the equivalent of 648,000 meals to needy families! It's an amazing accomplishment and on behalf of Sacramento Food Bank & Family Services, I want to thank all state employees for making this possible.
The need for food in California is substantial. According to the California Association of Food Banks, 5.4 million Californians contend with food insecurity, which is defined as the occasional or constant lack of access to the food one needs for a healthy, active life. More than two-million of those people are children. That need is what motivates California state employees to commit to this effort each and every year!