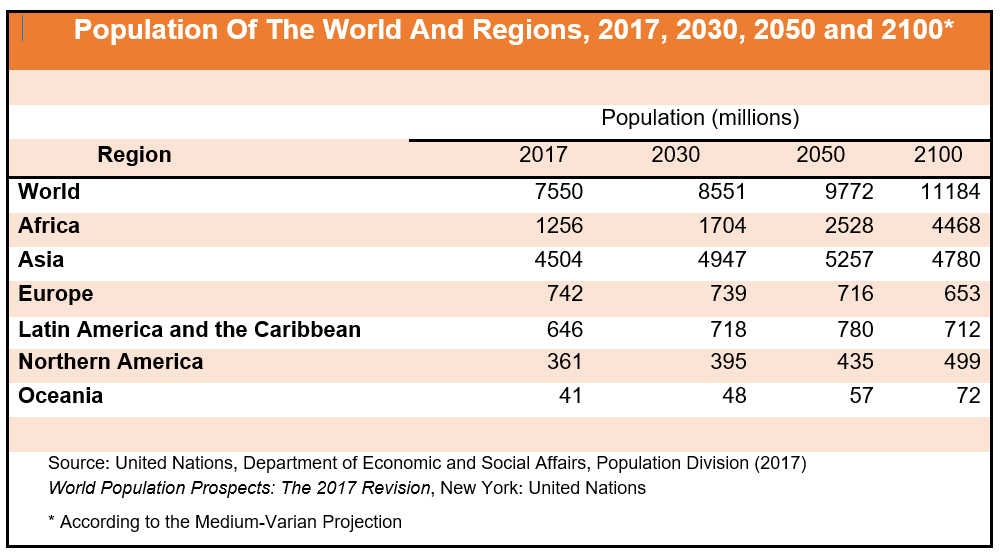 By Ed Maixner
EXCERPTED
Agriculture Secretary Sonny Perdue likes to tell people that he's a "grow it and sell it kind of guy" who is always on the lookout for opportunities to do so. Increasingly, that means understanding world population and demand growth – outside of U.S. borders.
That's because the U.S. population, at roughly 326 million strong, pales in comparison to China, with 1.4 billion hungry mouths to feed and India, with 1.35 billion people. By 2024, India is projected to overtake China as the world's most populous country. By 2050, Nigeria may pass the United States in population size to become the world's third largest country, according to United Nations' population projections last year.
From 2017 to 2050, the United Nations expects that half of the world's population growth will be concentrated in just nine countries: India, Nigeria, Democratic Republic of the Congo, Pakistan, Ethiopia, the United Republic of Tanzania, the United States of America, Uganda and Indonesia (ordered by their expected contribution to total growth).
For American farmers and ranchers, selling their products into foreign markets is becoming an ever-larger slice of their businesses – with almost continual robust growth in the past half century.
"Agriculture's business plan doesn't have as many facets to it as perhaps other industries," said Chuck Conner, president of the National Council of Farmer Cooperatives. "Our sole business plan for the future of American agriculture is expanding trade."
Deputy Agriculture Secretary Steve Censky recently tried to quantify the significance of exports in the agricultural economy.
"Twenty percent of farmers' income is from trade," he said, and each billion dollars in annual U.S. farm exports (about $140 billion in 2017) supports 8,000 American jobs, he said.
The growth, however, has slowed recently. U.S. farm export tallies have leveled off at around $140 billion in recent years, and with uncertainty over a potential $150 billion in tariffs being placed by China, the North American Free Trade Agreement being renegotiated and other potential trade conflicts, there's a lot of marketplace uncertainty.
USDA economists project the 2018 total to come in slightly below recent levels at $139.5 billion. Projections for U.S. agricultural exports in fiscal 2018 were lowered $500 million from the November forecast, and $1.0 billion below the previous year's exports
The U.S. agricultural trade balance is expected to narrow slightly, as well. The U.S. agricultural trade surplus is forecast at $21.0 billion in FY 2018, just below the $21.3 billion in FY 2017.
U.S. agricultural imports are forecast at $600 million below fiscal 2017, but $1.5 billion above USDA's previous fiscal 2018 projection.
Nonetheless, a bevy of factors point to strong domestic and international demand for U.S. farm products, despite some potential emerging obstacles to U.S. trade expansion. (A topic for a later story in this series.)
Global economic growth continues to strengthen. The International Monetary Fund put 2017 growth in gross domestic product (GDP) at 3.7 percent and projects 3.9 percent for 2018.
World agricultural trade keeps expanding along with the economy and population. USDA estimates world agricultural trade nearly doubled in real terms (adjusted for inflation) from 1995 to 2014, driven by a 25 percent increase in world population and 75 percent increase in the world economy. The growth rate was higher in developing countries, which spurs greater food consumption especially.
Continued advances in agricultural production methods, transportation infrastructure and shipping capacity, and the advance of international electronic financial transactions all enhance international trade.

4. Also, the U.S. dollar exchange rate against currencies of many U.S. trade competitors has softened lately, making U.S. farm products cheaper abroad.

5. What's more, reducing trade barriers through many existing trade agreements has helped a lot. USDA Chief Economist Rob Johansson says U.S. partners in free trade agreements – Canada, Mexico, South Korea, Chile, Colombia and other countries – account for nearly 45 percent of U.S. agricultural exports.