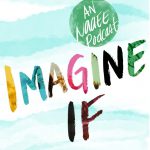 Podcast to air this summer will feature a dynamic conversation between generations of ag leadership about climate change, drought, and how farmers and ranchers are overcoming challenges.
California Agriculture Secretary Karen Ross spent a rewarding afternoon recently with young rancher, student, and up-and-coming ag leader Bailey Morrell at her family's ranch near Willows in Northern California. As Bailey led a tour of the property's cattle pens, nut orchards and hay fields, the pair recorded an extensive conversation that will be aired later this summer as part of the Imagine If podcast project. CDFA's Planting Seeds blog will feature the podcast as soon as it's available.
"Meeting Bailey reinforced my deeply-held belief that the future of agriculture is in very good hands," said Secretary Ross. "This young woman is enormously impressive. She has a genuine understanding of the complex range of agricultural issues and an innovative approach to problem-solving. We can expect big things from her in the years ahead."
The Imagine If podcast series is a project of the North American Association for Environmental Education (NAAEE), and National Geographic Explorer. Each episode captures an intergenerational conversation between youth (ages 12-22) and an expert in an environmental field— from climate change to biodiversity to water quality.