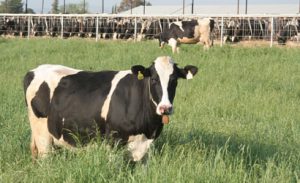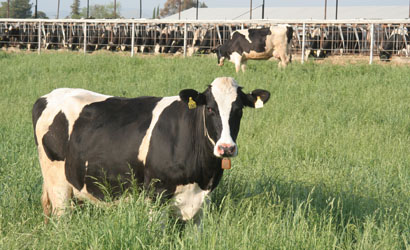 By Ross Marowitz, The Canadian Press
Generations of farmers have relied on knowledge and family expertise to grow food, but the sector is set for a surge of disruption at the hands of made−in−Canada artificial intelligence−powered systems.
AI is now helping farmers across the country to increase yields, save costs and minimize environmental damage. Instead of spreading fertilizer across acres of fields or spraying entire orchards with herbicides, they can now target their efforts for maximum effect.
SomaDetect Inc. of Fredericton is preparing to deliver commercial systems this fall that will test milk and use AI to provide insights to maximize a farmer's profitability, dairy farmers monitor their herds through the "internet of cows."
Sensors installed at each milking stall identify each cow, test their milk and quickly provide farmers metrics such as protein and fat counts, indicators of disease, hormones that manage reproduction and antibiotic residuals.
"We are in a fourth revolution in agriculture and AI is absolutely critical," said co−founder Bethany Deshpande.
However, Deshpande said the use of the technology is at an early stage where farmers are just starting to understand its power and the potential difference it can make on their operations.
"A lot of farmers have been demanding better technology, demanding better products for a long time and I think AI is huge part of how they're going to get that."
Montreal−based Motorleaf Inc. has developed a system that acquires data from indoor growing operations and applies artificial intelligence and machine−learning algorithms to identify growing patterns in the greenhouse, which can then be used to predict the size of future harvests.
It's like giving farmers a virtual assistant, said co−founder and CEO Alastair Monk, who formed the company two years ago with Ramen Dutta, an agricultural engineer.
"All of those ingredients are going to get mixed up into soup and out the other end comes an algorithm specifically for that greenhouse … so they can make smarter decisions instead of rolling the dice and risking what happens after they make those decisions."
Yield forecasts are crucial for growers because they indicate how much produce will be available for pre−sold contracts.
Traditional counting methods can be off by 20 to 30 per cent because farmers estimate the yield for the entire crop after counting samples of vegetables, leaves and flowers in a small area.
SunSelect, a California greenhouse customer that cultivates tomatoes, is one customer that abandoned manual predictions after Motorleaf's algorithms doubled the accuracy of its weekly yield projection, resulting in significant savings for the grower, Motorleaf said.
Systems incorporating machine learning, a type of artificial intelligence, are able to make millions of calculations to detect patterns imperceptible by humans that are required for precision planting, autonomous vehicles and robotics, says Graham Taylor, associate professor of engineering at the University of Guelph and faculty member at Toronto's Vector Institute for Artificial Intelligence.
AI researchers are largely focused on applications for deep−pocketed businesses and tech firms, but its use in agriculture is attracting global interest because of the pressing need to feed a growing global population amid increasing water shortages and a changing climate.
"Everybody's interested in AI right now and agriculture is a major concern for us as humanity," he said.
"When faced with these sorts of really scary potential problems that's going to make (the adoption of AI in agriculture) move a little quicker," Taylor said in an interview.
A combination of drones and AI technology have helped to alleviate stress on California pistachio and almond crops by watering only where it's needed, said David MacMillan, CEO of Toronto−based Deveron UAS, that is building one of North America's largest network of drones.
"In a place like California where your water costs are over $1,000 an acre, there's all these different value propositions," he said.
The technology can also be used in Ontario corn fields to target the use of fertilizers to areas that require extra help, saving farmers money.
Canada is well−positioned to be a leader in the field because it has disproportionate strength in artificial intelligence that is supported by government, Taylor believes.
The federal government has earmarked $950 million in funding on technology "superclusters" designed to encourage academia and businesses to work together on strategies to boost fast−growing sectors.
The five selected superclusters include an agriculture group based in the Prairies that will work to make the country a leading source of plant proteins.
The technology carries a potential downside, however: the systems could eventually replace farm jobs such as manual picking and weeding, Taylor said.
Robots can milk cows, pick apples and weed cabbage patches. Yet farming jobs that require physical activity or the operation of machinery in unpredictable environments are moderately threatened by automation, according a McKinsey report.
"Things like weeding, those tasks might be replaced," Taylor said.
"But I don't think you're going to see completely automated farm facilities in the near future."