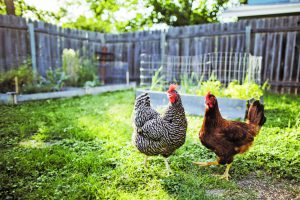 The ongoing program to eradicate Virulent Newcastle Disease (VND) following detections in San Bernardino, Riverside and Los Angeles counties is a very deliberate process requiring teams of CDFA and USDA employees to go door-to-door in the search for symptoms of the disease among backyard birds.
So far VND has been detected at 65 properties, but survey teams have paid visits to more than 73,000 thousand properties. Quarantines are in place at 1,786 properties, and even though the disease has not been detected at commercial poultry operations, several of them are under quarantine due to their proximity to infected premises, as a safeguard.
Outreach is a key part of the survey teams' work. Information is shared on prevention and the recognition of symptoms at each property. This effort includes visits to farmers' markets, feed stores, veterinary clinics and egg sellers; as well as ongoing communications with bird clubs and 4H groups and weekend visits to church services in the affected areas.
As this work continues bird owners everywhere, but especially in Southern California, are urged to practice strict biosecurity measures. In Southern California these include:
Don't move birds
Don't bring new birds to the property
Don't let people with birds come into contact with your birds.
VND mostly travels through the movement of  infected poultry or on the hands and feet of people that came into contact with infected poultry or their droppings.
Bird owners urged to  report sick birds to CDFA's Sick Bird Hotline, 866-922-2473.
Please visit CDFA's VND web page for more information.