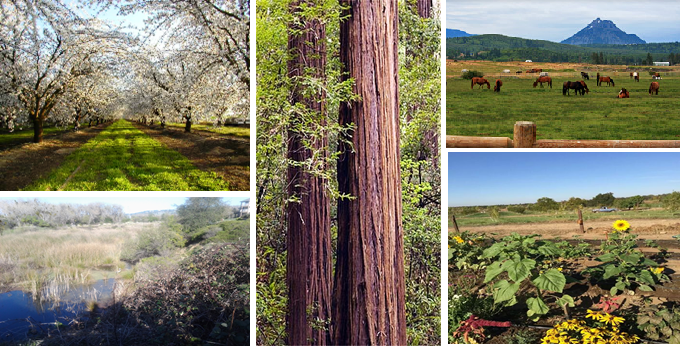 The January 2019 Draft California 2030 Natural and Working Lands Climate Change Implementation Plan is now available and can be accessed through the Natural and Working Lands webpage.
The plan is a multi-agency joint collaboration by the California Natural Resources Agency, California Department of Food and Agriculture, California Environmental Protection Agency, California Air Resources Board (CARB), and Strategic Growth Council. This plan aims to integrate management objectives wherever possible,coordinating all natural and working lands programs under a united approach that will move us toward our combined goal of maintaining a resilient carbon sink and improved air and water quality, water quantity, wildlife habitat, recreation, and other benefits. By moving toward an integrated multi-benefit approach that considers carbon, other critical ecosystem services, biodiversity, public health, and the economy, we can leverage efforts for maximum and sustained benefit.
The objectives of this plan are to:
Expand the use of natural and working lands for climate mitigation and adaptation by integrating climate goals into State-funded natural and working land conservation, restoration, and management programs;
Significantly increase and improve conservation, restoration, and management of California's natural and working lands through State programs and other means, to enhance their resilience to worsening climate change impacts, sequester carbon, and reduce GHGs;
Identify next steps for taking a more comprehensive approach to addressing the policy challenges facing our natural and working lands, including their contributions to achieving carbon-neutrality and meeting our long-term climate objectives.
---
In addition to tracking progress and estimating the benefits and impacts of the activities implemented to meet the 2030 goal, implementation will rely on programs and structures in place to monitor progress toward the long-term objective of achieving resilient net zero or negative emissions. Accordingly,this Plan coincides with the release of the CARB's Natural and Working Lands Inventory (NWL Inventory), a quantitative estimate of the existing state of ecosystem carbon stored in the State's land base. The NWL Inventory provides a retrospective estimate of carbon stocks, stock-change, and resulting greenhouse gas flux associated with stock change in California's landscape, and attributes stock changes to disturbances. The NWL Inventory will serve as the inventory of record for this sector, tracking sector-wide progress toward the long-term objectives.