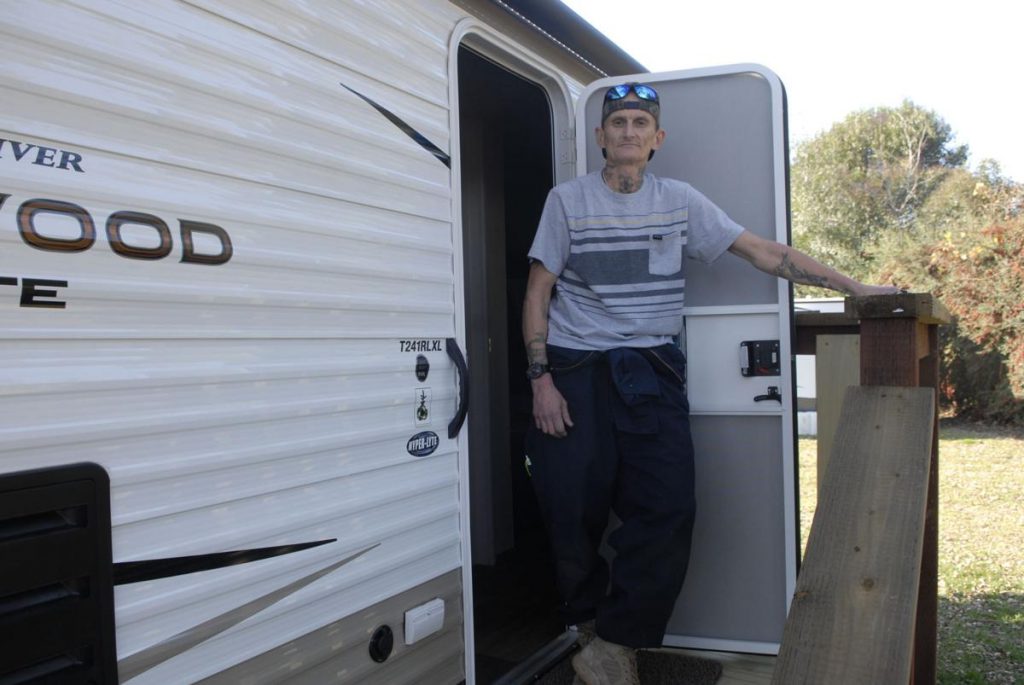 Steve Edwards hadn't been back to Paradise since the Camp Fire destroyed much of the town and surrounding areas in November, including his home. When he returned to see the aftermath earlier this week, he couldn't believe his eyes.
"I was devastated. Once I saw everything I just broke down into tears," Edwards said.
Immediately after the fire, Edwards said, he had no plans to move back to the area effected by the wildfire that killed 86 people and claimed more than 153,000 acres of land. But that changed after he had returned for the first time recently.
"I wasn't planning on moving back, but now that I've seen it, I've realized it's my home," said Edwards, who grew up in a military family before joining the service himself. "That was my first real home having moved around so much in my younger years. Even if I don't end up rebuilding, I'll still be up there helping others rebuild."
For the time being, Edwards is living in a trailer at the Yuba-Sutter Fairgrounds. His temporary residence is located at the tip of an eastern lot at the site, amongst 39 other trailers either occupied by displaced Camp Fire victims or soon to be occupied.
Edwards signed up to live in the trailer on Nov. 21 through a program offered by the Federal Emergency Management Agency that supplies temporary housing to victims of a natural disaster. Wednesday was his move-in day.
"I cannot believe the support I've received since everything happened. I would've never dreamed of people being this supportive. Every step of the way, people have been there and willing to step up and help," Edwards said.
Dave Dillabo, CEO of the Yuba-Sutter Fairgrounds, said FEMA has been setting up the brand-new trailers for move in for the past couple weeks and they are beginning to house Camp Fire victims at the site. As more and more trailers become available for move in, he said, the location will slowly begin to fill up.
FEMA reached out to Dillabo and staff to see if the Yuba City facility would be willing to house temporary mobile units. They also set up similar sites in Chico and Glenn County, Dillabo said.
"While fairs are typically a four-day event, this is an example of the importance of having a fairgrounds in a community. It allows us to provide these types of services after a disaster," Dillabo said.
The current contract allows for the trailers to remain at the Yuba-Sutter Fairgrounds for up to six months, Dillabo said.
Throughout the entire region, FEMA has more than 350 units set up at various locations to help Camp Fire victims with temporary living quarters, said Michael Hart, a FEMA spokesperson. FEMA has 40 trailers at the fairgrounds in Yuba City and another 23 mobile housing units in Yuba County.
For those displaced by the Camp Fire and in need of temporary housing, Hart said there are three ways to register. He said they can either call the FEMA helpline at 1(800)-621-3362, visit www.disasterassistance.gov, or by going into one of FEMA's Disaster Recovery Centers – one is located at the Chico Mall inside the former Sears store and another is located at 2140 Feather River Blvd., Oroville.
Pasta fundraiser planned to assist Camp Fire victims
While many have already donated to assist Camp Fire victims recover from the devastation that occurred in Butte County late last year, Yuba-Sutter residents will have another opportunity to help in February.
Pasta for a Purpose, a fundraiser for Camp Fire victims, is planned for Feb. 7 at the Yuba-Sutter Fairgrounds. The event is being put on by the fairgrounds, Recology Yuba-Sutter, Stephens Farmhouse and 4G Foundation.
"It's been amazing to see the outpouring of support and donations from this community since the fire," said fairgrounds CEO Dave Dillabo. "This event is a great opportunity for the community to get involved and help."
The fundraiser will be held at the Yuba-Sutter Fairgrounds Main Hall from 5:30 p.m.-8 p.m. The event will include a spaghetti feed and dessert.
Community members can donate either through gift cards or cash. Donations will be collected at the door and attendees are asked to give what they can, according to the Facebook event.