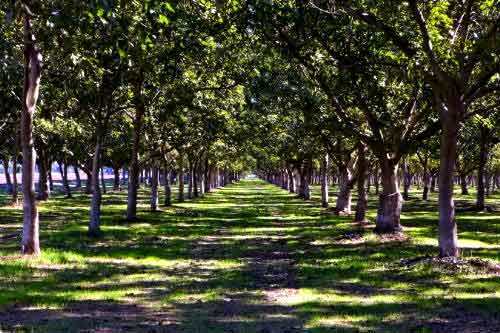 Note – CDFA's Fertilizer Research and Education Program (FREP) has provided funding, guidance and consultation to this nitrogen management project since 2013. It's part of the joint Nitrogen Management Training Program with the University of California Agriculture and Natural Resources department (UC ANR), the California Association of Pest Control Advisers' Certified Crop Adviser Program, and the Regional Water Boards.
By Pam Kan Rice, UC ANR
California growers can download a new series of publications summarizing efficient nitrogen management practices from UC Agriculture and Natural Resources. The publications are designed to assist growers in complying with state regulations for tracking and reporting nitrogen fertilizer applied to crops, in an effort to prevent nitrogen from leaching into groundwater.
The science-based publications are associated with a series of trainings for growers and Certified Crop Advisers to develop efficient nitrogen management practices, an effort coordinated by UC ANR's California Institute for Water Resources.
"Our role is to provide farmers, agricultural consultants and policymakers the best science possible for making decisions on managing and protecting California groundwater," said Doug Parker, director of the water institute.
The free publications—created from training materials, lessons learned from the training sessions and from additional UC research—can be downloaded at http://ucanr.edu/nmgmtpublications.
Developed in 2014, the training program has been offered at 11 different locations around the state, most recently in Fresno. More than 1,000 Certified Crop Advisers have taken the training.
The nitrogen management training curriculum was developed by a group of UC ANR faculty, specialists and advisors. The first day focuses on the nitrogen cycle in crop production systems, nitrogen sources, irrigation and nitrogen management, and nitrogen budgeting. The second morning covers annual and permanent crops and nitrogen planning practices.
For more information on nitrogen management training materials, visit http://ciwr.ucanr.edu/NitrogenManagement.