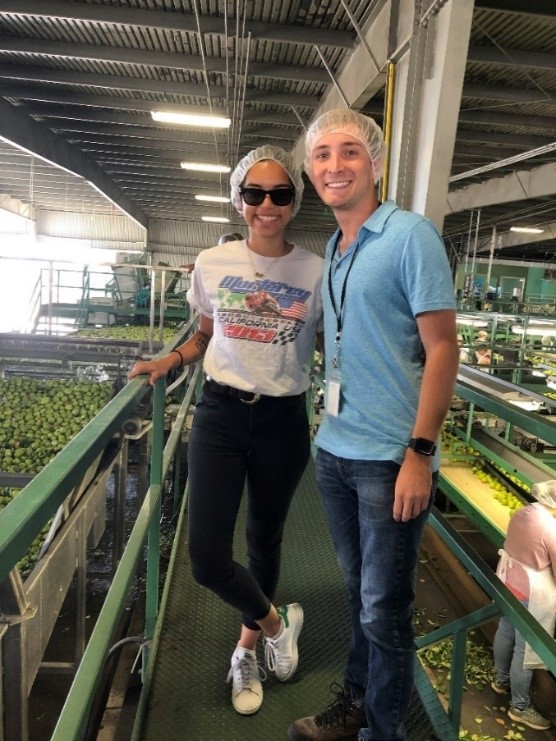 College student Andrea Levinson applied for a summer internship this year at the California Department of Food and Agriculture (CDFA) to gain hands-on experience in her field of study. After three months at the agency's Division of Inspection Services (ISD), her greatest takeaway is a better understanding of CDFA's wide range of projects and programs.
"The average Californian may not realize the reach of this agency," Levinson said. "CDFA inspects our produce, regulates the movement of invasive plants or pests, makes sure consumers get what they pay for, provides quality control for fertilizer, and provides leadership in adaptation to climate change. And the list goes on."
Levinson, a senior, is majoring in environmental studies with a minor in physics at Sacramento State University. She and Cal Poly San Luis Obispo senior Brent Oge were 2019 summer interns at ISD. Oge is majoring in agricultural business with a minor in Spanish.
"CDFA strives to support innovation and agricultural diversity," said ISD director Natalie Krout-Greenberg. "One way to support these efforts is through working with upcoming generations. The goal of our summer internship program is to engage students in agriculture and equip them to become future agriculture ambassadors. We find the program also serves as a recruitment opportunity for CDFA."
Offered annually, the ISD internship/mentorship program matches interns with rank-and-file staff members as mentors. Staff apply to be mentors to gain leadership experience. The selected mentors help with application review, interviewing candidates, and coordinating with division and branch leadership to determine intern projects.
Field tours are a highlight of the program, and this year's tours included the Division of Plant Health and Pest Prevention Service's Truckee Border Station, a visit to pear processing facilities under the auspices of ISD, and shadowing a fertilizer investigator from the ISD Feed, Fertilizer and Livestock Drugs Regulatory Services (FFLDRS) branch.
"My favorite day in the field was observing a fertilizer inspector during reviews of a compost producer, an organic fertilizer manufacturer, and a synthetic fertilizer retailer," Oge said. "After gaining a better understanding of fertilizer materials in the office, I was able to apply that knowledge to what I was seeing."
Oge interned with the Fertilizer Research Education Program (FREP). His project was to discover how FREP-funded research could get into more growers' hands. Oge conducted various interviews and learned that farmers often are interested in learning about the beneficial practices highlighted by FREP. His findings, made during a presentation at the end of his three-month tenure, included a recommendation that FREP should continue to increase its exposure to California farmers through strategic and personal connections that incorporate social media.
Levinson interned at ISD's Center for Analytical Chemistry (CAC) branch. With a background in computer coding, her project was to redesign the layout and accessibility of a CAC Standards Repository database created in 1992. Levinson's success was shown during a presentation at the end of her internship.
College students interested in being a 2020 summer intern for the CDFA Division of Inspection Services should look for a position announcement of Agricultural Technician I (Seasonal) to be made around January, with applications accepted through the middle of February.