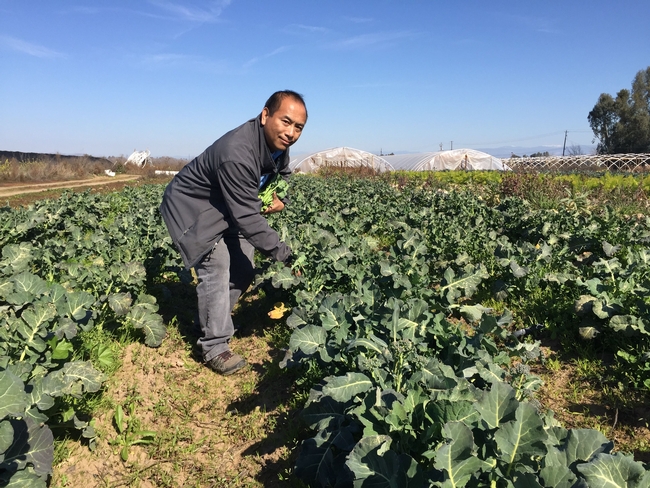 By Pamela Kan-Rice, UC Agriculture and Natural Resources
Keeping current on government regulations, agricultural marketing news and crop research advances can be challenging for California farmers, especially for those who speak English as a second language.
Hmong farmers in the San Joaquin Valley can tune in at 2 p.m. on Tuesday afternoons to listen to farm-related news delivered to their radios in their native language from Michael Yang, UC Cooperative Extension small farms and specialty crops advisor for Fresno County.
For the past 22 years, Yang has hosted the one-hour Hmong Agriculture Radio Show on KBIF 900 AM in Fresno to promote prosperity in the largely immigrant, small-scale Southeast Asian farming community. Yang provides advice on crop production and marketing.
"Fresno County has a large number of small and diversified farms; we have over 1,300 Southeast Asian farms and over 900 are Hmong farmers, according to a survey we did in 2007," Yang said. "I used to help 250 to 300 farmers every year, in the past couple of years it's grown to about 400 farmers."
Yang not only speaks their language, he shares their culture and history. After his father was killed for assisting the U.S. during the Vietnam War, Yang, his mother and three younger brothers spent 4 years of his childhood fleeing on foot through the jungles of Laos, subsisting on vegetation and wildlife, to reach safety in Thailand. The refugee family eventually made it to Fresno, where they took up farming.
The Hmong farmers grow Asian specialty crops including eggplant, lemongrass, long bean, squashes, bittermelon and moringa that they sell at farmers markets or to restaurants. Connecting Southeast Asian farmers to sell their produce at farmers markets has been a vital role for Yang, who serves as a translator and cultural interpreter between the immigrant farmers and farmers market managers. He explains the requirements for participating in the farmers markets and helps the farmers with paperwork and communication. Some growers drive as far as San Diego to get a higher price for their produce; the price can be three times as high at farmers markets in larger cities compared to Fresno.
Sales of Asian specialty crops grown by Hmong and other Southeast Asian farmers in Fresno County are valued at about $17.5 million annually, according to the Agricultural Commissioner of Fresno County.
Although Yang and colleague Ruth Dahlquist-Willard, UC Cooperative Extension small farms advisor, offer workshops and field days to share information, the radio show is an important information source because farmers can listen to the show while they work in the field. Because Hmong Agriculture Radio Show is such a critical tool for bilingual outreach, Dahlquist-Willard continually seeks grants to pay the $75 per show to the radio station. Of the 69 Hmong farmers who responded to a 2015 UC Cooperative Extension survey, 80% said they regularly listened to Yang's radio show.
Read more at this link on the UC ANR web site
Video with Michael Yang working with a Hmong farmer to explain how CDFA's SWEEP program benefits his farm.