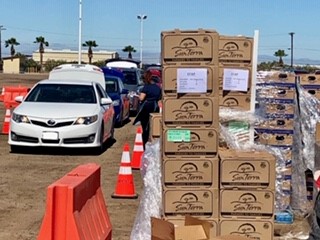 By CDFA secretary Karen Ross
Two months ago Governor Gavin Newsom announced initiatives to combat food insecurity in California, including new funding to expand the California Association of Food Bank's Farm to Family Program. Additionally, CDFA introduced a #FarmersFeedtheNeed social media hashtag to call attention to Ag's efforts to assist families in need due to the COVID-19 crisis.
The USDA has a program, as well, making $3 billion available through its Farmers to Families Food Box program for fresh produce, dairy products, and prepared meat for distribution to food banks and other non-profits.
While in Imperial County last weekend, I learned about the efforts of one California company participating in the USDA program. SunTerra Produce's Brawley operation is committed to supplying 45,000 25-lb boxes of fresh produce per week throughout California and other parts of the west. The boxes include items from throughout the western US.
– Onions (Central Valley)
– Nectarines (Central Valley)
– Potatoes (Idaho)
– Apples (Washington)
– Avocados (Escondido)
– Lettuce (Santa Maria)
-Celery (Santa Maria)
-Melon (Yuma)
– Butternut squash (Central Valley)
-Carrots (Central Valley)
Through this program, SunTerra is able to employ about 60 people who otherwise would not have been working. They are on the job Monday-Friday, averaging 10,000 boxes per day. I am deeply grateful to programs like this for addressing the urgent need for food for families, while helping farmers who have lost markets and also keeping people employed. Kudos to SunTerra and its employees for their efforts as we all work together to address the COVID-19 challenges facing our communities.