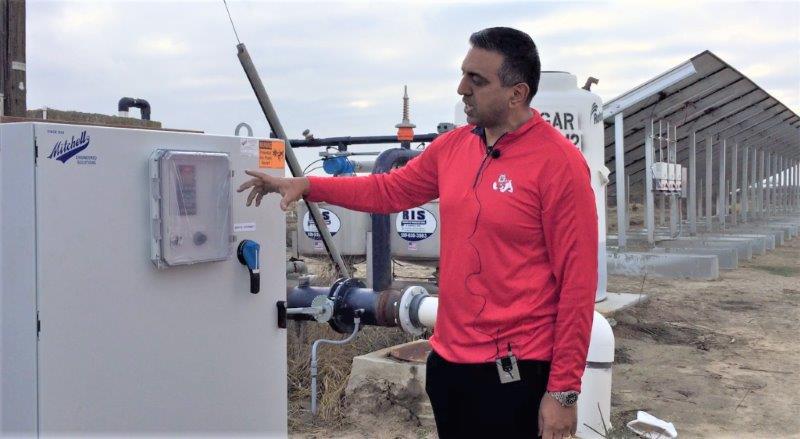 Recent heat waves have caused California's energy grid to take a beating, which forced the California Independent System Operator, the entity that operates the state's power grid, to institute rolling blackouts.
How do California's farmers and ranchers deal with energy uncertainty during times like this, when the intense heat demands an increase in irrigation? For many years, they have been working to improve both energy and water efficiency of their irrigation systems. And since 2014, CDFA's State Water Efficiency and Enhancement Program (SWEEP) has been an important resource for California farmers, providing financial support for long-term efficiency improvements with a focus on greenhouse gas reductions.
"For many years, SWEEP has been funding grants that help California farmers and ranchers save water and reduce greenhouse gases through reduced energy consumption," said CDFA Secretary Karen Ross. "The proactive, hard work of these farmers really shines when the state deals with challenges like the recent heat waves. Our farmers' and ranchers' contributions provide us with food security plus a host of other benefits seen through SWEEP efforts, which are invaluable to the state, especially now."
Some SWEEP grant recipients, for example, have installed energy efficient technologies such as efficient pumping systems coupled with variable frequency drives to reduce energy demands of irrigation. Other grant recipients have also installed solar and other forms of renewable energy, resulting in less imported energy and thus reducing the strain on the grid. Energy-saving practices like these also result in reduced greenhouse gas production.
Central Coast citrus and avocado grower Daryn Miller received a SWEEP grant, which helped provide two small solar arrays, one for each irrigation pump, to offset his farm's GHG production use and save water. The project also included installation of soil moisture and weather sensing technologies that help the farmer make data-driven choices on when and for how long to irrigate his crops.
"The objective overall was mostly to cut down our energy," said Miller, "to really see how much water we were using … to get a good idea of where we're at on a total amount of water and a total amount of electricity, and to essentially create our own little electric grid."
Fresno County fruit grower Balvinder Purewal received a SWEEP grant to enhance his 37-acre farm's irrigation system with a high-efficiency pump, soil moisture sensors, double-line drip system and 25-kilowatt solar array. "The SWEEP program is going to help us save on both water from the ground level and save energy," he said. This energy savings results in statewide GHG savings by reducing the energy grids reliance of other forms of energy production.
In 2019 alone, SWEEP supported 122 projects with an estimated reduction in greenhouse gas emissions equal to 3,200 metric tons of carbon dioxide equivalent per year. This is equivalent to supporting the electricity needs for nearly 550 homes for one year, based on federal EPA equivalency factors. SWEEP utilizes similar incentive strategies to the United States Department of Agriculture: Natural Resources Conservation Service: Environmental Quality Incentives Program (NRCS:EQIP).
Scientists tell us that extreme heat days and extreme heat waves are becoming more common in California due to climate change, and reports developed by CDFA in collaboration with several partners and engagement with the farmer community, further highlight the same concerns. With compounding impacts of climate change and other stressors on our environment and natural resources, SWEEP and other CDFA Climate Smart Agriculture programs are helping build a more resilient 'California For All.'
Watch what these and other farmers and ranchers have to say about SWEEP and CDFA Climate Smart Agriculture programs on our Climate Smart YouTube playlist at https://www.youtube.com/playlist?list=PLxjMt4BmzMYasCKoAUewX0Vy2yk1LWNd_.