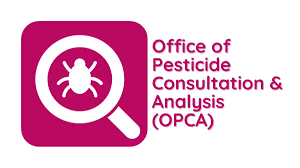 The California Department of Food and Agriculture's (CDFA) Office of Pesticide Consultation and Analysis (OPCA) is hosting a two-day conference June 28 and June 29. The virtual conference will provide an overview of the history of OPCA, what OPCA does, summaries of recent regulatory reports, and overviews of OPCA's grant programs.
Conference participants will hear from grant awardees on their OPCA grant-funded research projects, a panel on how research can be translated in practice, and agricultural economists who work with OPCA on various research projects.
"We're offering this conference to give the public and stakeholders an opportunity to see and appreciate the good work we do in the OPCA and how this work helps our growers and our state achieve environmental stewardship and agricultural sustainability goals," said CDFA Secretary Karen Ross.

"OPCA is a key partner for the Department of Pesticide Regulation (DPR) in evaluating the economic impacts of pesticide regulations, most recently in our work on neonicotinoid insecticides," said DPR Director Val Dolcini. "This meeting is an opportunity to highlight our continued collaboration."
Please register in advance for the conference at: https://attendee.gotowebinar.com/register/981688376789910284.
Registrants will receive a confirmation email containing information about joining the webinar.
Additional conference details, including a meeting agenda, are available at: https://www.cdfa.ca.gov/oefi/opca/conference.html.
Anyone interested in learning more about OPCA and their work are encouraged to attend.
NOTE: California Department of Pesticide Regulation Continuing Education (CE) credits will be available for Day 1 (1 hour L, 0.5 hour O) and Day 2 (0.5 hour L, 1.5 hour O).