A webinar series hosted by the California Farm Bureau Federation in partnership with the Monterey County Farm Bureau and the California Department of Food and Agriculture (CDFA) about best food safety practices for agricultural neighbors is now available online. The recordings include members of the California Agricultural Neighbors (CAN) group discussing the CAN interim report, "California Agricultural Neighbors: Neighbor-to-neighbor best practices to enhance localized food safety efforts."
"The diversity of our agricultural community here in California means we can gather an impressive array of subject-matter experts along with farmers and ranchers, and they can get right down to the business of developing cutting-edge food safety practices," said CDFA Secretary Karen Ross.
"The California Agricultural Neighbors webinars are great examples of the knowledge and collective power of the farming and ranching community when we work together to solve field-level problems," said Jim Houston, administrator of California Farm Bureau Federation.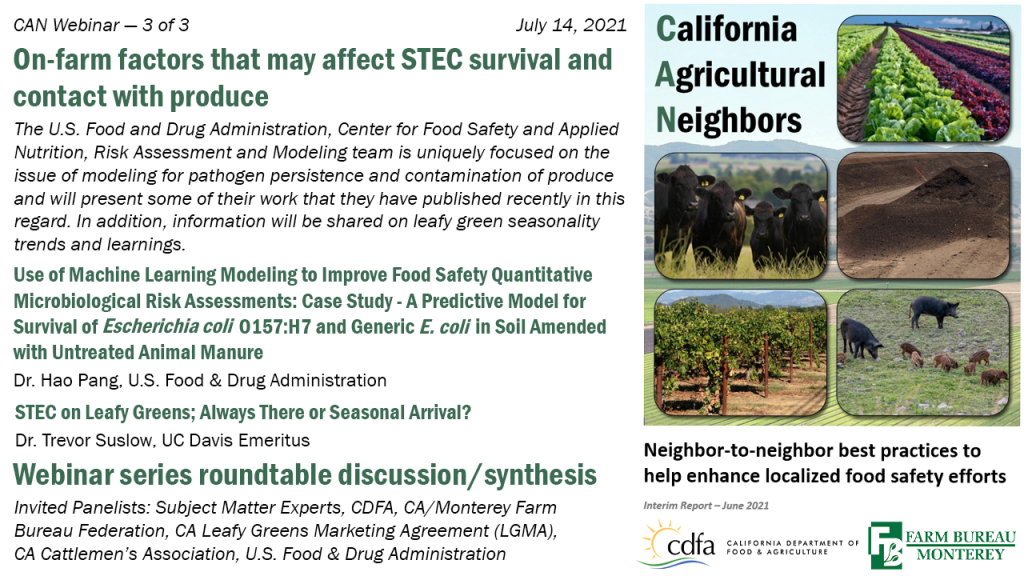 CAN membership includes representation from the agricultural production community (leafy greens, cattle ranching, viticulture, compost), academia, associations (industry, consumer/retail) and government (local, state, federal). CAN was formed in response to continued outbreaks of pathogenic E. coli O157:H7 associated with leafy greens in California's Salinas Valley. CAN provides a roundtable forum to foster collaboration and discuss enhanced neighborly food safety practices when agriculture operations are adjacent to one another.
Click on the images (above) or on the following links to view the webinar recordings: