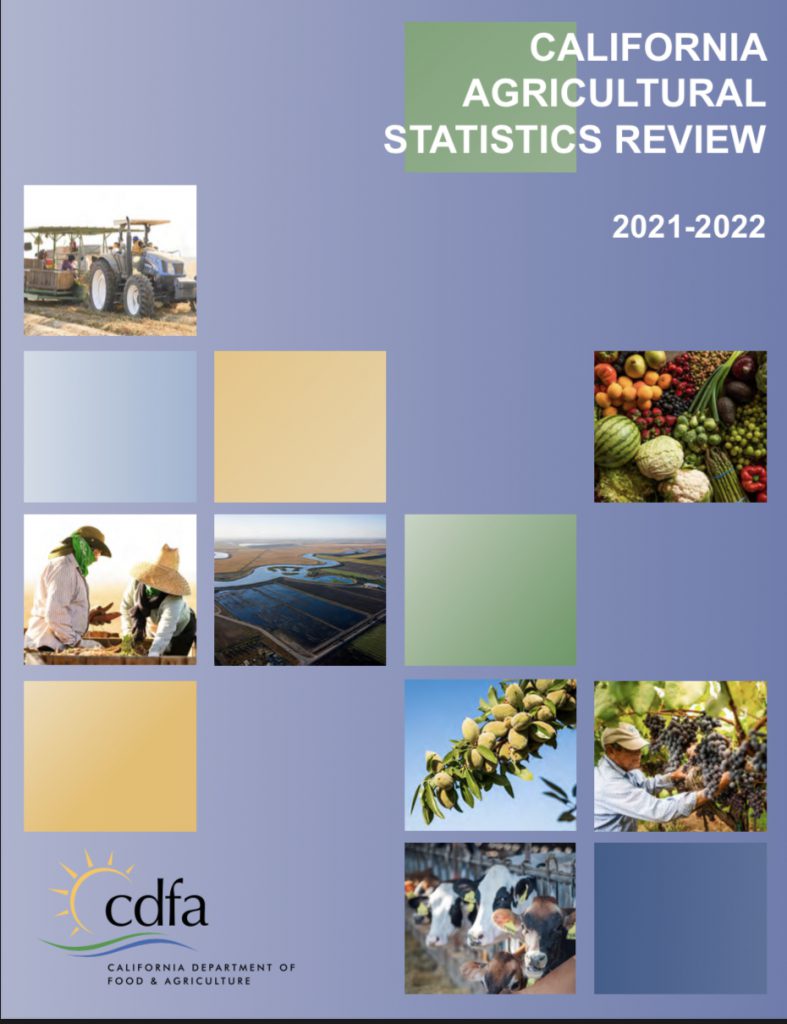 The annual California Agricultural Statistics Review has been released and is available on the following webpage: https://www.cdfa.ca.gov/Statistics/.  
This publication provides comprehensive data and information on California's diverse agricultural economy for the 2021 crop year, including agricultural exports and organic production.
In 2021, California's farms, ranches and plant nurseries received $51.1 billion in cash receipts for their output. This represents a 3.6 percent increase compared to the previous year.
Over a third of the country's vegetables and two-thirds of the country's fruits and nuts are grown in California. California's top-10 valued commodities for the 2021 crop year were:
Milk and Cream $7.75 billion
Grapes $5.23 billion
Almonds $5.03 billion
Cattle and Calves $3.1 billion
Strawberries $3 billion
Pistachios $2.9 billion
Lettuce $2 billion
Tomatoes $1.18 billion
Walnuts $1.02 billion
Rice $1 billion
California organic product sales totaled $14 billion in 2021, an increase of 16.4 percent from the prior year. Organic production encompasses over 2.13 million acres in the state. California is the only state in the U.S. with a NOP authorized state organic program.
California agricultural exports totaled $22.5 billion in 2021, an increase of 7 percent from 2020. Top commodities for export included almonds, dairy and dairy products, pistachios, wine and walnuts.
Note: A comprehensive report for the 2022 crop year will be assembled in late 2023.