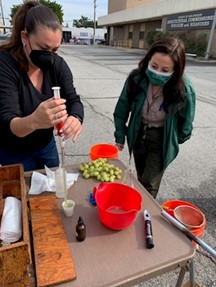 Did you know that inspections of imported table grapes are conducted annually by California county and state personnel to ensure they meet the same high standards of California-grown fruit? Inspections ensure that table grapes look good, taste good, are nutritious; and that labels accurately describe what consumers are purchasing.  
(PHOTO — Standardization Southern District Supervisor Anna Carrasquillo conducts table grape field training in Los Angeles County by demonstrating the process used to determine the sugar and acid content of the grapes.)
In the first quarter of 2023, the California Department of Food and Agriculture (CDFA) Standardization Program oversaw the inspections of more than 3.7 million containers of imported table grapes. Standardization Southern District Supervisor Anna Carrasquillo also conducted training sessions with county personnel to ensure they have the knowledge and practical experience necessary to perform these types of inspections.
The Standardization Program is part of the Inspection and Compliance Branch in CDFA's Inspection Services Division.