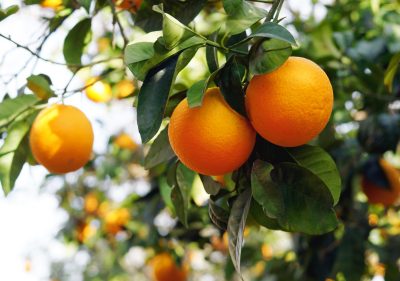 With Thanksgiving and its generous tradition of sharing coming up next week, CDFA is urgently reminding Californians in fruit fly quarantine zones that they should *not* be moving homegrown produce off their property — citrus as well as other fruits and vegetables — as movement is forbidden under quarantine requirements and also creates a risk of spread of the invasive flies.
There are seven different fruit fly quarantines currently active in California, in the counties of Los Angeles, Ventura, Sacramento, Riverside, San Bernardino, Contra Costa and Santa Clara.
What residents can do to help:

Do not take fresh fruits and vegetables off of your property.
Fruits and vegetables may be consumed or processed (i.e., juiced, frozen, or cooked) at the property of origin.
To dispose of fresh fruits and vegetables, double-bag and seal prior to placing it in a non-green waste bin.
Allow authorized agricultural workers access to your property to inspect fruit, check OFF traps, or conduct fruit fly eradication activities.
Report any suspect fruit fly maggots that you find inside of your backyard produce by calling the CDFA Pest Hotline: 1-800-491-1899.
Maps, quarantine restrictions, and other information is available online at: https://www.cdfa.ca.gov/plant/off/regulation.html
Californians are urged to adopt the principles of "Don't Pack a Pest" to help prevent future introductions of invasive pests and diseases — by declaring all agricultural products for inspection upon entering the country and state, and by shipping Ag products through official channels that allow for proper treatment of commodities to protect against invasive species.