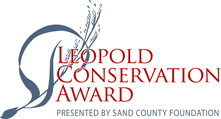 Sand County Foundation, in partnership with California Farm Bureau Foundation and Sustainable Conservation, is seeking nominations for the 2013 California Leopold Conservation Award. This award recognizes private landowners' commitment to environmental stewardship and land management.
The award, named after world-renowned conservationist Aldo Leopold, honors the writer's refection of land conservation when he wrote that the landscape of any farm is the owner's portrait of himself.
The California Leopold Conservation Award underscores the fact that many ranchers, farmers and other private landowners are on the front lines of conservation and should be recognized for protecting the environment. So often, voluntary conservation by private landowners provides the most effective, efficient and durable means of protecting land, water and species.
The 2013 finalists will be selected in part based on their commitment to responsible and sustainable land management, the overall health of their land, implementation of innovative practices and dedication to community outreach and leadership. Nominations will be evaluated in two categories: (1) Nurseries & Crops, and (2) Livestock.
The grand prize of $10,000 and a crystal rendering of Aldo Leopold, author of "A Sand County Almanac," will be presented at California Farm Bureau Federation's annual convention in December.
The deadline for nominations is July 12, 2013
For more information and a nomination form, visit www.leopoldconservationaward.org or contact Sustainable Conservation at (415) 977-0380. For information about past winners and finalists, visit www.suscon.org/leopoldaward/index.php
Ashley Boren is the Executive Director of Sustainable Conservation – an independent nonprofit organization that partners with business, agriculture, and government to find practical ways that the private sector can protect clean air, clean water and healthy ecosystems. Ms. Boren is also a public member of the California State Board of Food and Agriculture, representing the environmental community. Sustainable Conservation is a supporting partner of the Leopold Conservation Award.