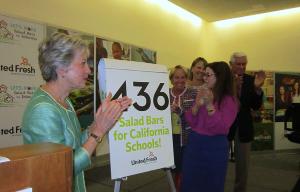 SAN DIEGO — The United Fresh Produce Association's campaign to put 350 salad bars in California schools has gone well over that mark, reaching 436 by the start of the United Fresh trade show.
About 300,000 students in 71 districts are expected to benefit from the donations under Let's Move Salad Bars to California Schools.
About 130 donors raised almost $1.2 million in a year to reach the mark, said Dick Spezzano, president of Spezzano Consulting. He co-chaired the initiative with Karen Caplan, president of Frieda's Inc.; Margaret D'Arrigo-Martin, vice president of community development at Taylor Farms; and Lisa McNeece, vice president of foodservice and industrial sales at Grimmway Enterprises.
DiSogra presented an award to Rodney Taylor, director of child nutrition at the Riverside Unified School District (and also a member of the California State Board of Food and Agriculture), for his efforts in food service.
"He has really inspired all of my work on salad bars," she said, crediting training programs Taylor has overseen in the state and nationwide.
"They started in California a long, long time ago," DiSogra said. "Rodney's had this passion and vision for all these years."
State superintendent of public instruction Tom Torlakson said the California salad bar effort is ongoing. He has overseen the Team California for Healthy Kids effort.
Similar efforts have gone on for three years in the host city and state for United Fresh's annual show. In the lead-up to the 2012 show in Dallas, 101 salad bars were donated in Texas. These are part of a broader effort.
"With all of our partners on the national level, we have donated more than 2,500 salad bars to schools that are benefitting more than 2 million kids across the country," DiSogra said.
Carpinteria, Calif.-based Hollandia Produce LLC recently donated three salad bars destined for the Santa Barbara Unified School District. The Dos Pueblos, San Marco and Santa Barbara high schools are recipients.
The California Table Grape Commission, Fresno, issued a release on its donation of 27 salad bars to California schools.
"We all want the best for our kids and when it comes to school lunches, nothing is better than a healthy salad bar full of fresh produce, including grapes from California," Kathleen Nave, president of the commission, said in the release.
Sixteen organizations each donated 10 or more salad bars, totaling about 250 between them. The top donors were:
Apio Inc.
California Table Grape Commission
Duda Farm Fresh Foods
DuPont Crop Protection
Fresh Produce & Floral Council
Grimmway Farms
Grower-Shipper Association Foundation
The Health Trust
Pacific Tomato Growers
Paramount Community Giving
Produce Marketing Association
Rabobank N.A.
Safeway Foundation
SaveMart Cares
Silicon Valley Leadership Group
Whole Kids Foundation