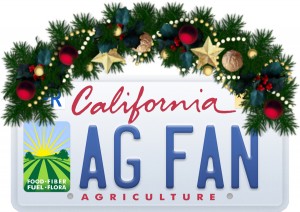 With the holiday season now fully upon us, I'd like to take moment to suggest a gift you may not have considered – the California Agriculture License Plate. This is an excellent way to show support for California agriculture while participating in a program that actually gives back. A portion of Ag license plate fees provides funding for agricultural education programs that are crucial to our future.
These programs are important for several reasons. The disconnect between consumers and the farming community has grown over the decades as fewer and fewer people have been involved in production agriculture.  Fortunately, there is a renewed interest by consumers to know where their food comes from, how it is produced and who produced it.  This provides an opportunity to help people understand the unique advantages we enjoy because of the bountiful diversity California agriculture provides to this state, our nation and, increasingly, the world.  Agricultural education programs introduce our young people to the wide variety of exciting career opportunities available throughout the agricultural production system in addition to environmental stewardship, leadership skills, community service and making nutritious food choices.
Just last week, I had a fabulous visit to the FFA Chapter at Pioneer High School in Woodland.  The chapter is the state's second largest (850 students) and continues to see dramatic growth.  The officers who escorted me around campus were smart, articulate, confident and enthusiastic! The hands-on learning and leadership development they are exposed to in addition to rigorous studies have already equipped these young people with life-long traits that any employer would value.  Because of students like these, I am very optimistic about our future and our ability to double food production to feed a fast-growing world population that is expected to number nine-billion people by 2050.
Our future is in good hands if we pay attention to our food production infrastructure.  It starts with Ag education programs like 4-H, FFA, Ag in the Classroom and many other worthy programs.
So, please, take a look at the agriculture specialty license plate for the holidays. You'll help raise agricultural awareness and help us prepare future generations to enter an honorable profession.