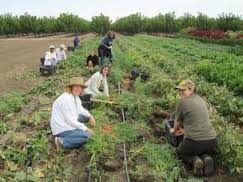 By Cathie Anderson
Mai Yang Vang, only 28 years old, has already come full circle in her life. She's now a board member at the nonprofit that inspired her passion for environmental justice as a teenage student at Sacramento High School.
In fact, she and other board members of Winters' Center for Land-Based Learning recently learned that the very program that introduced Vang to habitat restoration and conservation will receive an award today from U.S. Secretary of the Interior Sally Jewell. Mary Kimball, the agency's executive director, will pick up the Partners in Conservation Award in Washington, D.C.
Vang was among the first students to participate in the Student and Landowner Education and Watershed Stewardship program when it began in 2003. Everybody involved with the program refers to it as SLEWS. Kimball's brainchild, the program begins with teachers educating students on everything from the water cycle to the role that native fish play in improving water quality.
Then Kimball, the staff at the U.S. Fish and Wildlife Service, farmers, ranchers and other partners lead students in real-world projects: They have planted hundreds of trees. They have set up drip irrigation systems. They have performed wildlife surveys and more.
SLEWS is just the beginning. Vang and many students return for more intense leadership training in farming, resource management and sustainability. They get summer work experience in the center's GreenCorps. Kimball has mentored countless students who have launched careers in agriculture or environmental sciences.
The eldest of 16 children, Vang became a Buck Scholar. She has bachelor's degrees in biology and sociology and master's degrees in public health and Asian American studies. She now works as a policy associate at the bipartisan public interest group California Forward.
"As someone who was so young at the time," Vang said, "it really helped me develop a passion for environmental justice and sustainable communities and conservation in California. … I don't think I would have ended up where I'm at, if it wasn't for that first encounter with SLEWS."