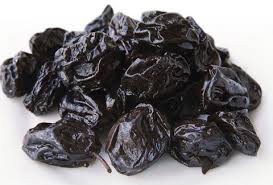 By Debbie Arrington
Wrinkles can be cool – if you're a prune.
Many of us have had a long love affair with our crinkly, locally grown prunes, even if they weren't considered the coolest fruit in the bunch. But that's changing. Interest in nutrition and healthier eating has made these funny-looking chewy nuggets into another form of California gold.
Prunes have even become chic. Chefs such as Sacramento's Randall Selland (Ella's, The Kitchen) incorporate them into both savory and sweet dishes, such as roasted sturgeon with prunes, capers and pine nuts, or a salted caramel chocolate tart with added richness from prunes. This fruit thickens sauces as well as adds a dark, subtle sweetness. In addition, puréed prunes make an excellent fat replacement in baked goods, adding fiber and nutrients without a lot of calories.
Boomers, inherently prune-resistant, are warming up to prunes' benefits. New research points to prunes' power in helping maintain bone health. Prunes' high fiber content makes them a potent natural laxative. Grandma was right again: Eat more prunes.
For years, prune growers and processors throughout California's Central Valley suffered from an identity crisis. They produce a unique fruit – and instant giggles.
Industry leaders hoped to quell those guffaws by renaming their product. But "dried plums" didn't catch on.
Dan Lance, president and CEO of Sunsweet Growers, likens the realization to a scene from Mel Brooks' classic comedy "Young Frankenstein." Gene Wilder keeps insisting his family name is pronounced "Franken-STEEN," until he finally admits he's young Frankenstein.
"We had our 'Young Frankenstein' moment," Lance said. "We decided to embrace our identity. We are prunes!"
The marketing positives outweigh the old jokes, he explained. "There are so many other dried fruits on the shelf; dried apples, dried apricots, dried mangoes. Dried plums became just another dried fruit. But mention prunes, you get a reaction."
At its 1.2 million-square-foot plant in Yuba City, Sunsweet processes about 70,000 tons of prunes a year, representing a third of the world market. Shipping 650,000 cases a month, Sunsweet is the world's largest dried-fruit handler.
About 300 farmers are part of Sunsweet's grower-owned cooperative. Founded in 1917 as the California Prune and Apricot Growers Association, the cooperative made Sunsweet a familiar brand. According to marketing surveys, an estimated 85 percent of American households know that Sunsweet sells prunes. (So much for dried plums.)
Due to the fruit's nutritional profile, consumers under age 30 seem to be warming up to prunes, too, said Sunsweet Vice President Brad Schuler. Seniors already love them.
"Younger generations have no predisposition about prunes," Schuler said. "People past 65 or 70 consume prunes at a high rate. But boomers? They're a challenge. That's why (prunes) were re-named dried plums as a response to that fact. But people are realizing what a heavy nation we are and the benefits of prunes."
This year's prune crop is now developing in orchards scattered across the Sacramento Valley. California accounts for 99 percent of the American prune crop and about 60 percent of all prunes worldwide.
Prune plums ripen later than most other plums. Harvest usually wraps up in August with the fruit first going to dryers before it heads to Sunsweet for processing. The fruit is sorted by 10 different sizes. Once processed, they're stored and shipped year round.
California's prune industry traces back to the Gold Rush and one French entrepreneur, Louis Pellier. In 1850, he started growing fruit for miners. Pellier brought prune plum cuttings from his native Agen in France and grafted them onto wild plum trees growing in the Valley.
For these hard-working miners, prunes were ideal: Very portable, dried plums keep for weeks, even months, without refrigeration. California prunes were an instant hit.
By 1900, an estimated 90,000 acres of prune plums grew in the Central Valley, supplying not only California but the nation.
Today's California prune is little changed from Pellier's early trees. The dominant variety is Improved French, a cultivar developed by famed horticulturist Luther Burbank using Pellier's stock. Burbank spent 40 years perfecting his prune, introduced to growers in the early 1900s. That variety still dominates California orchards.
"The Improved French is the best," said Schuler. "While all prunes are plums, not every plum can be a prune."
Early prune growers congregated around Santa Clara (where Pellier grew his prunes) but gradually moved inland. "Now, three-quarters of all prunes grow in the Sacramento Valley," said grower Joe Turkovich, who farms 88 acres near Winters.
Prunes are an Old World fruit, noted Turkovich, who is of Croatian descent.
"We have a cultural history with prunes," Turkovich said. "There are a lot of subtle tricks of the trade for growing this crop. And we live in a unique area where we can grow prunes."
Prunes need our Mediterranean climate, which mirrors their ancestral homeland on the other side of the globe.
"In this climate, we have rain-free summers with full sun, cool winters but not super cold, and low humidity in summer – that's important," Turkovich noted. "There's just a handful of places on Earth like that – France, Italy, Croatia, Serbia, Chile, Australia and the Central Valley. That's where you can grow prunes."
Prunes are loved and used liberally in cuisines of Mediterranean countries. While the French have no qualms about this native fruit, the Brits made prunes the butt of countless jokes. Americans tended to adopt that same prune humor.
"In France, it's a big part of their cuisine," said author Dawn Jackson Blatner ("The Flexitarian Diet"), a national nutrition expert. "In Italy, they love prunes. They're recognized as a taste experience. But mention prunes in the U.K., and a bathroom joke follows."
Maybe we've gotten more mature (and older), but prunes are now in vogue.
"Prunes are an amazing fruit," Blatner said. "They're sweet, deep, sticky, chewy. I've become a super fan. Prunes allow me to use less sugar in granola, smoothies, pancakes, oatmeal. I use prunes to de-bitter quinoa and greens. They're awesome in chili, barbecue, enchilada sauce."
As a Sunsweet consultant, Blatner has worked with chefs to revamp recipes using less sugar and fat by substituting prunes.
"Prunes may not be a starring player in a recipe," she said, "but they make everything work together better."