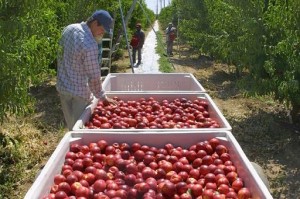 Agriculture is not just about farming, it's about community. California's farmers and ranchers contribute significantly to the health of our citizens and are vital partners in expanding food access to rural and urban communities. One in eight Americans – 37 million people – receives emergency food annually, and it is estimated that five million of those individuals are Californians.
The California Department of Food and Agriculture, in partnership with the California Association of Food Banks, is promoting the month of December as "Farm to Food Bank Month." Farmers and ranchers across the state are asked to contribute to families in need by donating food or pledging a future donation for the upcoming year. So far this year, California farmers and ranchers have donated more than 100 million pounds of food to food banks – this includes the recent donation by California dairy farmers of 12,000 half-gallon cartons of milk for Thanksgiving meals.
Farm donations and pledges should be coordinated with:
Ron Clark
California Association of Food Banks
Phone: (510) 350-9907
E-mail: Ron@cafoodbanks.org
In recognition of food bank donations by farmers, CDFA Secretary Karen Ross and California State Board of Food and Agriculture President Craig McNamara will visit the Community Food Bank in Fresno on Tuesday, December 13, 2011. The food bank will be accepting farm donations and pledges from 9 a.m. to noon on that day in observance of the farm-to-food bank drive.
Improved food access is the first priority of Ag Vision , a strategic plan for California agriculture. With this in mind, members of the state board are working to double California farm contributions to food banks over the next five years.
Food and farming go hand-in-hand, and California farmers are in a unique position to help the hungry.