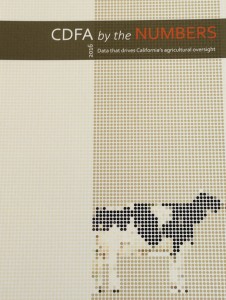 We live in the age of data. From soil sensors to livestock identification, numbers and the patterns and trends they reveal are central to the way we work, both on the farm and here at the California Department of Food and Agriculture.
A lot of the work we do at CDFA happens behind the scenes: food safety inspections, setting traps to catch pests, and granting licenses and registrations to farmers and their colleagues in the industry, for example. We collect data at many steps along these processes, and that's what brought about the idea for a new report entitled "By the Numbers." Rather than trying to exhaustively explain all that we do, this document provides snapshots and examples of the data that drives what we do.
For example, on page 23 we learn that CDFA's Plant Pest Diagnostics Center received 219,700 samples last year "ranging from a single insect or leaf to a container holding as many as 100 of them." Our labs identify each sample using comprehensive reference collections of millions of insects, plants, weeds, seeds and even microscopic organisms that can cause trouble for our farms and our food supply.
Page 31 shows that 2,336 veterinarians and 9,645 animal owners throughout California submitted 33,559 samples to the California Animal Health and Food Safety Laboratory System last year, to be tested for foreign and emerging diseases such as avian influenza and foot-and-mouth disease.
Beyond the data, I hope you will find that the By the Numbers report also illustrates why our department, our people and their daily efforts are valuable to farmers, ranchers and consumers alike.