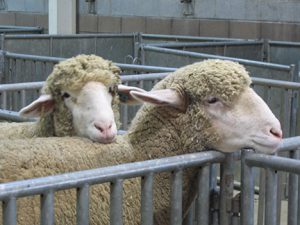 Any antibiotic use – in people or animals – can lead to the development of antibiotic resistance, making it vital to recognize and eliminate unnecessary or inappropriate uses of antibiotics. In California, farmers, ranchers and veterinarians share a common goal with their counterparts in human medicine:  A desire to work together to promote the judicious use of antibiotics to preserve them to the extent possible into the future – for both human health and animal health reasons.
In support of that goal, California was the first state in the nation to pass a law (Senate Bill 27-2015) that helps align antimicrobial use in livestock with human health models.  Among other things, effective January 1, 2018, the law requires that for use in livestock, all antibiotics must be under veterinary direction. The law also requires a veterinarian's prescription for the sale of all antibiotics, prohibits the use of antibiotics for growth promotion, and limits the circumstances in which antibiotics can be used for disease prevention.
Veterinarians are dedicated to safeguarding animal health and welfare needs. They make sure that necessary medications are available and administered in a timely manner for treating, controlling, or in specific circumstances, preventing disease. Livestock owners should know that establishing a veterinarian-client-patient relationship and working closely with veterinarians will ensure that livestock have the medical attention it needs. Building this relationship before an emergency is key to avoiding complications, whether the livestock is a pair of chickens in the suburbs, or a flock of 10,000 sheep in the Central Valley.
CDFA
 wishes to provide assistance during the transition period as over-the-counter antibiotics become regulated, requiring a veterinary prescription. We recognize the importance of ensuring that animal health care does not suffer during this transition period.  We welcome all feedback, particularly as specific challenges or benefits are realized when the law becomes effective, and intend to work together to continually improve our Program. 
To provide feedback, ask specific questions or find out how to participate in program efforts, please feel free to email 
CDFA_AUS@cdfa.ca.gov
.