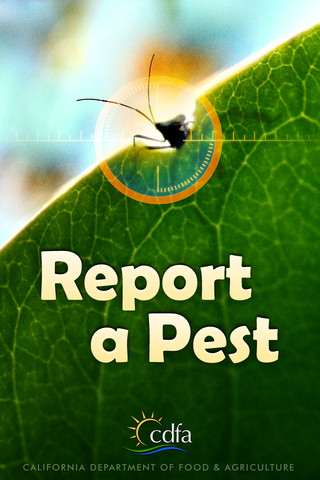 In connection with national Invasive Plant Pest and Disease Species Awareness Month, CDFA is making a new mobile app available for Californians interested in helping to keep an eye out for invasive species. The app is called "Report a Pest," and it enables people to take photos of a suspected invasive insect or plant and send them to CDFA for evaluation. The app includes an option for GPS coordinates of the find, just in case a rapid response is necessary.
For now, the app is available for Apple iPhones and iPads and may be downloaded for free from the Apple App Store. An Android version is under development. The mobile app is an extension of the Report a Pest link on CDFA's web site, which features more information on submitting photographs or even live samples of invasive species.
CDFA's Divisions of Plant Health and Pest Prevention Services and Information Technology Services worked together to develop the app. The Division of Plant Health works to protect California's food supply and environment from invasive species.