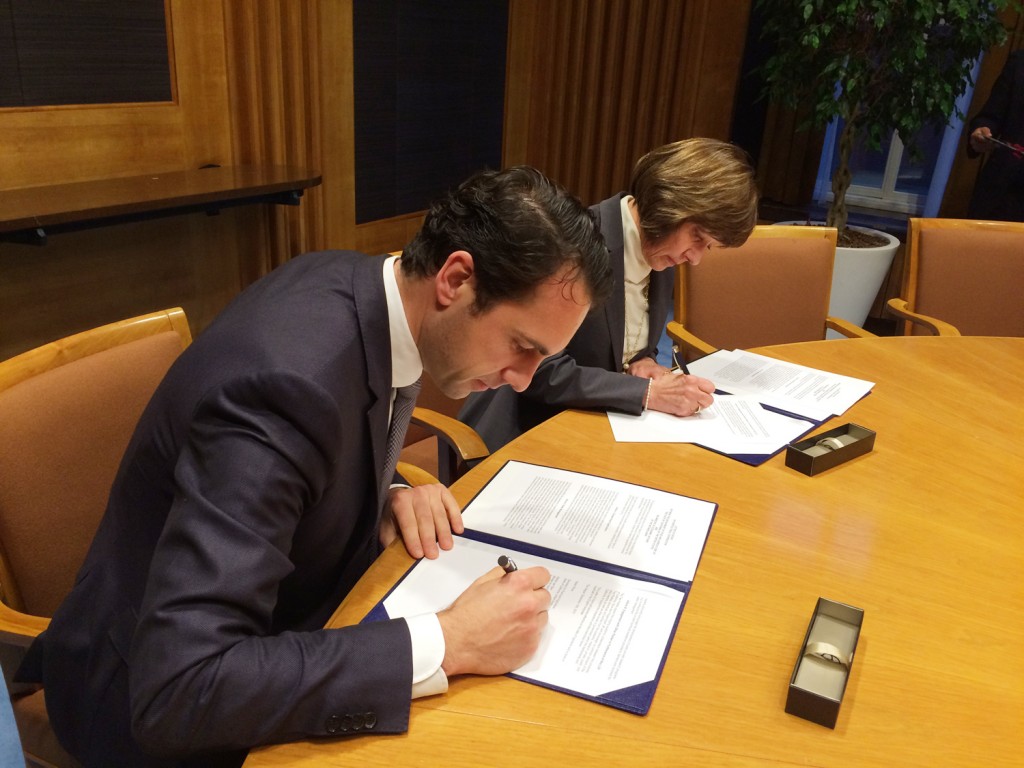 Letter of Intent
The Department of Food and Agriculture of the State of California of the United States and the Ministry of Economic Affairs of the Netherlands (hereinafter referred to as "the Two Parties"), through friendly consultation, pledge their intent to cooperate on shared agricultural issues.
This Letter of Intent builds upon the mutually beneficial partnership of the State of California and the Netherlands on environmental cooperation, established (October 2013) and renewed (March 2015).
Article I. Climate-Smart Agriculture
The Two Parties jointly recognize the need to make agriculture, forestry and fisheries part of the solution to combat the negative impacts of climate change and environmental degradation, while also addressing the global needs of food security. This recognition aligns with the Two Parties policies and initiatives in addressing a changing climate. The Two Parties agree to work together to elevate the importance of Climate-Smart Agriculture within international discussions and promote further cooperation on this issue through for example the Global Alliance for Climate-Smart Agriculture. It is the intent of the Two Parties to encourage 1) 'Dissemination of Research' to improve agricultural adaptation on a global scale; 2) 'Farmer Connectivity' to further international on-farm implementation of adaptation and mitigation practices; 3) 'Advances in Agricultural Innovation and Technology' to improve the sustainability and security of food, farming and the environment.
Article II. Water Management
The Two Parties affirm the importance of water management in promoting water use efficiency and protecting groundwater quality on natural and working lands. Water and agriculture are inextricably connected and within the context of a changing climate the agricultural sector will face many challenges including an increase in saline soils, sea level rise, reduced natural groundwater recharge, and the impacts of reduced precipitation (droughts) and increased precipitation (floods). The Two Parties further understand that issues of water management are intensified by a changing climate while global demand for food increases. The Two Parties, in cooperation, agree to: 1) further outreach and education on water management through participation in national and international forums; 2) encourage public-private research and investment in water management practices and technology; and 3) learn from in each other's policy development and implementation water management practices by exchanging experts and jointly encourage the development of public-private research programs e.g. to enhance the on-farm technical assistance provided to farmers and ranchers for water management.
Article III. Engagement with Other Parties in Furtherance of this LOI
The Two Parties support the ongoing academic collaboration between the University of California, Davis and Wageningen UR and encourage, by common decision of the Two Parties, individuals and entities from the academic, research, private, public, and other sectors, as well as other levels of government within the Netherlands and California, to support the cooperative activities described herein.
This Letter of Intent will become effective on the date of signature and is done in duplicate in the English language.
The Hague, December 10th, 2015
Karen Ross
Secretary for Food and Agriculture
State of California, United States of America
Martijn van Dam
Minister for Agriculture
the Netherlands