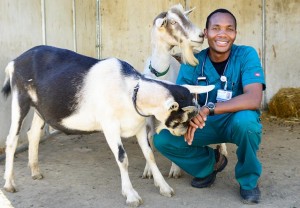 The University of California, Davis, held onto its top spot in veterinary science in the latest QS World University Rankings released today. As the No. 1 university in veterinary science, UC Davis is renowned for applying a "One Health" approach to addressing critical health concerns on a local and global scale.
"The people and programs of the UC Davis School of Veterinary Medicine are dedicated to providing innovative and compassionate clinical care, making groundbreaking discoveries and teaching the next generation of leaders in veterinary medicine," said Michael Lairmore, the school's dean since 2011. "This recognition is also a reflection of the dedication of our philanthropic partners who provide generous gifts that help fund novel research, improved facilities and student scholarships."
For the fourth consecutive year, UC Davis came out among the top-ranked universities in agriculture and forestry, taking second place in the ranking this year. Also in the QS rankings, UC Davis was featured among the world's elite institutions in 32 of the 42 subjects featured. Those subjects include environmental sciences, 13th; biological sciences, 31st; and earth and marine sciences, 34th.
"The QS rankings reaffirm our international standing, and that our faculty and researchers are respected the world over for their work throughout the globe," Chancellor Linda P.B. Katehi said.
QS rankings are based on reputational surveys and research citations. This year, QS evaluated 4,226 universities, qualifying 2,691 and ranking 945 institutions.
The veterinary school, also ranked No. 1 by U.S. News and World Report, is home to a robust research program, which last year totaled more than $56 million. The school annually provides clinical services to more than 50,000 animal patients in 34 specialties. UC Davis serves as a strong leader in veterinary medical education, providing nearly 550 Doctor of Veterinary Medicine students annually with a curriculum built on sound educational theory designed and delivered by prominent faculty members.