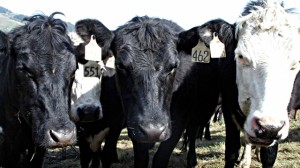 Is California still the Wild West?  For the men and women of the Bureau of Livestock Identification here at the California Department of Food and Agriculture (CDFA), the days of cattle rustling never ended. More than two thousand head of stolen and stray livestock were returned to their owners last year, at a value of approximately $2 million. Investigations in several rural counties have led to arrests, fines and jail time.
The saddle may have given way to a white pickup, but the task is still the same:  stop rustling, get lost or stray livestock back to their rightful owners, and make sure both animals and people are protected by inspecting livestock at critical times such as when they are bought and sold, transported out-of-state or brought to a feedlot or slaughterhouse.  The Livestock ID office's work also helps ensure the safety of our food supply. More information is available online: http://www.cdfa.ca.gov/ahfss/Livestock_ID/index.html
Investigators accomplish these tasks primarily by registering and inspecting brands for cattle, horses, burros and sheep. Our inspectors also help local law enforcement with investigations and prosecutions involving livestock theft. And, in these tight budgetary times, it's important to note that the state's brand registration and inspection program is entirely funded through fees paid by livestock owners. The times and tools may have changed, but most of us still wear our boots to work and keep a good saddle nearby. Yep, it's still the Wild West out here.