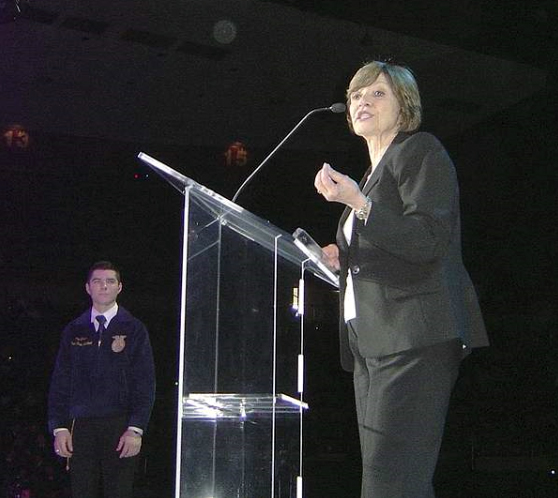 Tim Hearden, Capital Press
FRESNO, Calif. — State Food and Agriculture Secretary Karen Ross told 5,000 FFA members here that California's agriculture-related industries will need their energy and innovations in the challenging years to come.
Ross cited water shortages, food safety concerns and global population growth as problems that today's students in FFA could someday help solve.
"Think about how you use your hand-held technology and your gaming technology," Ross told a packed audience during the Monday morning session in Fresno's Selland Arena. "Those are the very tools you may use for (assisting) the smart farm of the future."
Ross also praised the FFA chapters for promoting the CDFA's three-year-old agriculture-themed license plate program, which has generated nearly $500,000 for education. The department in January handed out $249,352 in the second round of grants from the CalAgPlate program, including $212,000 for FFA leadership and development programs.
"It's going great, but one of the challenges of the special license plates program is they have to keep selling or the interest goes away," Ross told the Capital Press after her speech. "The students' energy (in promoting the plates) is really important for these ag programs. … It's such an important way for people to know, 'I'm making a contribution to ag education.'"
Ross' appearance was among the highlights of the 88th annual California State FFA Leadership Conference, which continues through April 26. With the theme, "Electrify," students in high school FFA programs throughout California converged to participate in contests, hear inspiring speakers, attend a career fair and take part in other activities.
Ross' appearance excited members of the FFA's state leadership team, including outgoing president Joelle Lewis of San Luis Obispo, who said she's also met the secretary during visits to schools.
"I think having her come here and talk (about students' potential for future leadership) makes a big difference in people's minds," Lewis said.
Ross has attended several state FFA conventions since becoming food and ag secretary in 2011.
She began her address by praising FFA member McKenzie Brazier of King City, Calif., who sang during one of the session's talent segments.
"I would recommend her for 'The Voice,'" Ross said to loud cheers. "Wouldn't it be great if we had someone on 'The Voice' with a blue jacket? And then if somebody standing behind her would hold up a CalAgPlate sign?"
Ross told the students that among them could be sitting a future state lawmaker, water board member, agriculture secretary or even U.S. president. She said it's important that California agriculture recognize its mission and the ability to feed the world.
"You cannot appreciate what you have until you don't have it," Ross said, noting that she missed fresh California produce when she shopped in Washington, D.C., during her stint as chief of staff for U.S. Agriculture Secretary Tom Vilsack.
"California can show the world how to grow food," she said.
In the interview, Ross said she always tries to set aside time in her schedule to meet with FFA members.
"They're curious, energetic and they've got new ideas," she said.
View the original article online here.