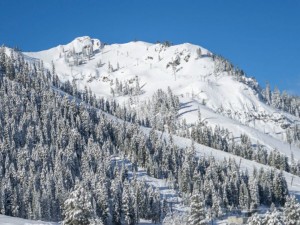 By Ed Joyce
There was no change in drought conditions last week in California and Nevada, but spring storms added snow to the northern Sierra Nevada.
The U.S. Drought Monitor released April 28 shows that slightly more than 4 percent of California, in the northwest part of the state, is not in drought. But, unlike the previous update, which showed extreme and exceptional drought had eased in the state, there were no changes in this week's report (which has a cutoff day of Tuesday).
"In northern California, 1-3 inches of precipitation fell along the northern Sierra, which translates to well above normal, but normals are lower this time of year and the amounts are small compared to the multi-year deficits, so no change was made to the depiction in California and Nevada," according to the Drought Monitor.
The Drought Monitor intensity levels are Abnormally Dry, Moderate, Severe, Extreme and Exceptional drought.
The report shows extreme drought covers 49 percent of California and exceptional drought now covers 21 percent of the state. Moderate drought covers 90 percent of the state, with 74 percent in severe drought.
Recent storms have helped increase the statewide Sierra Nevada snowpack, however slightly. Last week the snowpack was 60 percent of normal. But that increased to 63 percent of normal this week. A week ago, the statewide snowpack was 58 percent of normal.
Last week, exceptional drought was removed from Nevada, the first time since July 2013 the state does not have that level of drought.
In the Pacific Northwest, just 3 percent of Washington is abnormally dry and nearly half of Oregon is free of drought.
"Coastal Washington and Oregon received 1-3 inches of precipitation this week, but these areas were outside the drought and abnormally dry region," the update noted. "Precipitation amounts were much lighter east of the Cascades, generally less than half an inch."
The U.S. Seasonal Drought Outlook (released April 21 by the National Weather Service Climate Prediction Center) shows that drought persists through much of California and western Nevada through July 31, 2016.