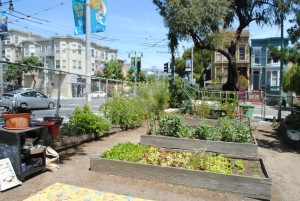 The USDA has unveiled the Urban Agriculture Toolkit to increase access to healthy food through urban agriculture. From neighborhood gardens grown on repurposed lots, to innovative mobile markets and intensive hydroponic and aquaculture operations, urban food production is rapidly growing into a mature business sector in cities across the country.
The toolkit is intended primarily for entrepreneurs and community leaders looking to create local benefit from urban agriculture. It will help urban and small farms navigate more than 70 helpful resources, including technical assistance and financing opportunities. It focuses on some of the most pressing challenges confronting urban producers, such as land access, soil quality, water resources, capital and financing, infrastructure, market development, production strategies, and applying for federal, state or private foundation grants.
Industry estimates show U.S. local food sales totaled at least $12 billion in 2014, up from $5 billion in 2008, and experts anticipate that value to hit $20 billion by 2019. The numbers also show that these opportunities are helping to drive job growth in agriculture, increase entrepreneurship and expand food access and choice.