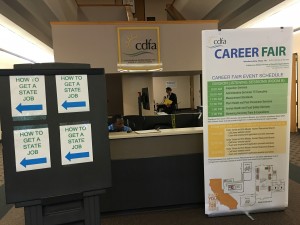 With an estimated 40 percent of all California state employees eligible to retire in the next five years, and nearly 50 percent here at CDFA, the agency recognizes a substantial need to recruit new employees and this week held its first annual career fair at its Gateway Oaks office in Sacramento.
Invitations went out to local schools and Ag industry affiliates through several means of communication, including social media. The target audience included high school seniors, college students, and people interested in a career change. The response has been quite enthusiastic. Nearly 200 people attended the career fair and more than 1,600 others have inquired about jobs on a recruitment web page maintained by CDFA.
"It is absolutely essential to get Millennials interested in a career with the State," said CDFA analyst Dana Eagle, one of the Career Fair organizers. "Retiring Baby Boomers have a wealth of institutional knowledge, which makes it critical that we invest in our current workforce and get people interested in coming work for us today."
Current and future job openings cover the full spectrum of programs at CDFA, including plant health; animal health; dairy food safety; weights and measures – including work in alternative fuels; information technology; marketing; climate smart agriculture; oversight programs for certified farmers markets and organic agriculture; and administration and other support functions.
The agency will need scientists and other subject matter experts as well as veterinarians, entomologists, chemists, technical specialists, analysts, and a full complement of support personnel.
Future inquiries about jobs at CDFA may be directed to the Examination Unit by calling 916-654-0790 or via e-mail at exams@cdfa.ca.gov.
Here are some scenes from CDFA's 2016 Career Fair.