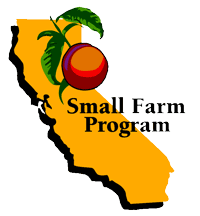 From the UC Small Farm Program
Are you one of the thousands of California farmers and ranchers who invite the public to your land to shop at your farm stand, pick their own fruit, taste wine, stay the night, learn a skill, enjoy a festival, or tour your operation?
Are you a tourism professional noticing increased interest in agritourism from the public? Are you a county planner trying to balance the desire of entrepreneurial farmers to ease agritourism restrictions with their neighbors' worries and concerns?
You may be interested in the recordings and presentation slides from this series of one-hour "Agritourism Conversations Lunchtime Webinars" offered May – July, 2016:

The Strategy: Identifying, reaching & connecting with YOUR agritourism customers
webinar recording
Presentation slides by Kristen Staggs and Anna Farrell, Farrell Design Group
Presentation slides by Al Courchesne, Frog Hollow Farm
The Invitation: Social Media, Online Booking & Website Success
webinar recording
Presentation slides by Kristin York, Sierra Business Council
Presentation slides by Lauren Gagliano Saline, Suzie's Farm
The Rules: Navigating and Negotiating Permits and Regulations
Recording of webinar presentation by Karen Giovannini, Sonoma County Agricultural Ombudsman
Handout to accompany Karen Giovannini's presentation
Presentation slides by Karen Giovannini
Recording of webinar presentation by Tom Purciel, El Dorado County Advance Planning Division
Presentation slides by Tom Purciel
The Community: Powerful Promotions through Partners
Tiffany Dozier, Yolo County Visitors Bureau and Evan Oakes, Ag Venture Tours and Consulting
webinar recording
Tiffany Dozier's presentation slides (Working with your DMO)
Evan Oakes' presentation slides (Organizing tours and working with tourism and hospitality partners)
The Delivery: Five-Star Customer Experience
Scottie Jones, U.S. Farm Stay Association and Meghan Bishop-Sanderson, Bishop's Pumpkin Farm
webinar recording
Scottie Jones' presentation slides: Hospitality on your farm
Meghan Bishop-Sanderson's presentation slides: Bishops' Pumpkin Farm Customer Service Program
The University of California Small Farm Program is teaming up with FarmsReach to provide this series of practical webinars and an online forum for conversations about California agritourism, thanks to funding from the USDA Farmers' Market Promotion Program.
FarmsReach also offers an Agritourism Toolkit and a popular online forum for information-sharing among the agricultural community. Together, they hope to nurture the statewide agritourism conversation.