By USDA Secretary Tom Vilsack
Just a few weeks ago, I had the honor of accepting the Federal Agency of the Year award from the League of United Latin American Citizens (LULAC) on behalf of the U.S. Department of Agriculture. While it's always encouraging to receive praise on behalf of the Department, I am exceptionally proud of this award in recognition of the hardworking people at USDA and the improvements we've made since the start of the Obama Administration. Together, we have come a long way.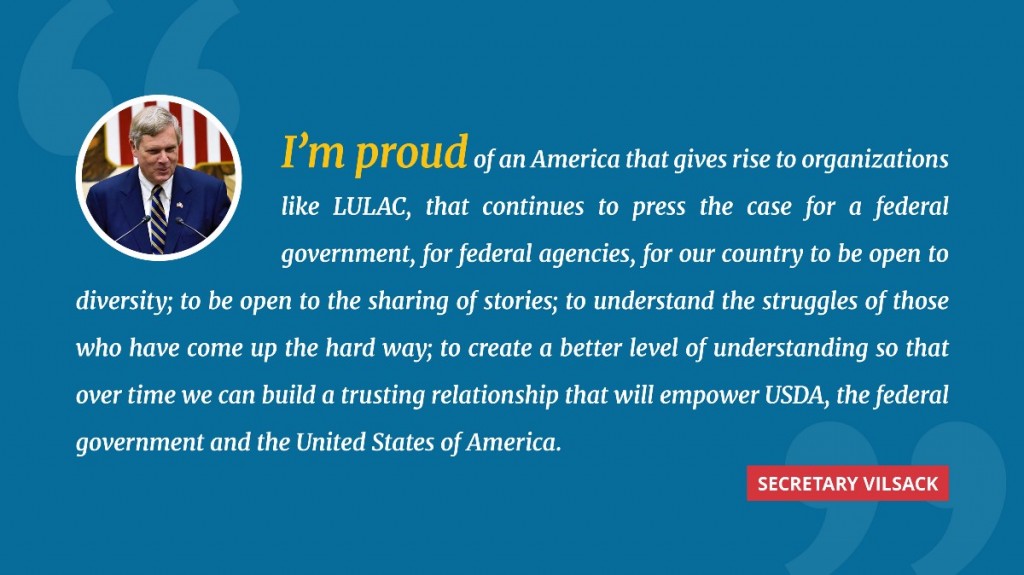 When I assumed the office of the Secretary nearly eight years ago, USDA had a reputation marred by decades of systemic discrimination. Thousands of claims had been filed against the Department for denial of equal service, many based on race. Many of these claims languished for decades, unresolved. But this Administration heard President Obama's call to uproot inequality, and we acted. Over the past eight years, we've taken big, bold steps to rectify past wrongs and ensure all Americans who come to USDA for help are treated fairly, with dignity and respect.
We got started promptly by examining our history and bringing to light the most challenging aspects of the Department's past. We made it our mission to change the culture of USDA. To root out exclusivity and build a culture of accessibility, we created new policies, corrected past mistakes and charted a stronger, more inclusive path for our employees and the communities we serve. While there's still much to accomplish, we've made significant progress by addressing the following goals:
1. Correcting Past Mistakes
To gain trust as a provider in the communities we serve, we took action to heal the wounds of past mistakes, setting the stage for a more inclusive future.
2. New and Improved Outreach to Expand the Breadth of Our Service
USDA's services impact individuals in every city, county, state and territory across our nation — in addition to countless countries around the globe. To increase awareness of our programs and make sure every American has access to our services, we've expanded our outreach and engagement efforts to better reach those in need.
3. Increased Representation from Those We Serve
To make sure every American has a stake in the USDA experience and that our policies reflect our commitment to fair and equal service, we've made significant changes to enhance the diversity of decision-makers across the Department, making sure our customers are represented and voices from all of America's communities are heard.
4. Unparalleled Access to Economic Opportunity
To level the playing field and make sure every American has a chance to succeed regardless of race, gender or sexual identity, ethnicity or zip code, we created new bridges to economic opportunity to help make the American dream a reality.
5. Cultural Transformation within the Department
Over the past several years, we've seen a remarkable increase in the diversity of people working at USDA, with more individuals from a variety of backgrounds. Since 2009, we have transformed the culture within USDA to ensure employees are met with the support, sensitivity and care they need to thrive.
The results are in, and I'm pleased to say that when it comes to civil rights, we've brought about real change. In 2015, USDA reduced the inventory of pending civil rights complaints to its lowest level in five years; and between 2010 and 2014, USDA's Farm Service Agency reported the fewest customer complaints on record. Major improvements to farm loans have made it possible for more Americans to get involved in farming and ranching. And today, because of our programs, more hardworking people have access to affordable homes they can call their own. We've made groundbreaking investments through our StrikeForce program and Promise Zone designations to improve quality of life for those in communities experiencing persistent poverty, in addition to multi-generational efforts targeting the needs of parents and children which will have lasting impacts for years to come.
The story continues: see the USDA's original post in its entirety here.