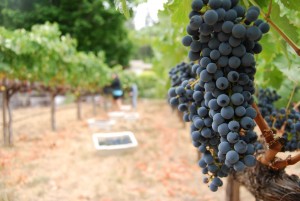 By Esther Mobley
California's 2016 wine grape harvest is under way, and after a freakishly early and low-yielding 2015 vintage, things seem to be back to normal — sort of.
The bump in yields promises some financial relief for the wine industry, which can, with luck, pass that on to consumers. And while many wines from the 2015 vintage appear on a promising track, outcomes across California were variable; an excessively early harvest can often translate to fruit with less flavor complexity. This year, the grapes are getting a little more hang time.
"Qualitatively, we're pretty happy," said Hugh Davies, president and CEO of Schramsberg Vineyards. The Calistoga sparkling wine house, which first picked grapes on Aug. 3, is about one-quarter of the way through harvest.
In addition to being one of the earliest on record, last year's vintage, which started in July, was also very compressed, with many winemakers forced to pick all of their fruit in a short window of time. This year, by contrast, "is a bit more evenly paced than some other years," Davies said. "We're walking through it, as opposed to running." This is largely due to moderate daytime temperatures and cooler nights in California's coastal regions.
Vintners are generally harvesting about a week later than last year. While 2016 is still on the early side of average — by about 10 to 15 days — the fact that it's arriving a little later than 2015 is a relief. Extra time on the vine means prolonged development of flavors.
David Marquez dumps his bin of grapes into the transport crates during Hyde Vineyards' overnight harvest. Photo: Carlos Avila Gonzalez, The Chronicle
"You don't want sugar to shoot up ahead of flavor ripening," as was the case for many vineyards in 2015, said Bedrock Wine Co. owner Morgan Twain-Peterson. "We're not going to see that as much this year." Bedrock's first pick was Zinfandel from Evangelho Vineyard in Contra Costa County, on Aug. 1.
In the Central Valley, California agriculture's workhorse region, the slightly earlier-than-average timeline meant that harvest began in mid-July. (Hotter temperatures there typically ripen fruit ahead of coastal areas.) "We should wrap up Pinot Grigio and Sauvignon Blanc by the end of next week," said Jen Wall, winemaker for Gallo-owned Barefoot Wine in Modesto. "Currently, we're in the middle of a heat spike — our second in two weeks."
On the whole, yields are slightly lighter than average, but still considerably higher than 2015's extraordinarily short crop; last year, in some regions, like the far-west Sonoma Coast, vineyards reported over a 50 percent loss.
That's certainly good news from a financial standpoint — and also may bode well for wine quality. "Clusters and berries are small," said Jonathan Nagy, winemaker at Byron Winery in Santa Barbara, where the first Pinot Noir grapes came in on Aug. 17. "I always like that scenario. It usually means more intense flavors, structure and color."
It's a return to moderation after a vintage that was marked by extremes.
One hallmark of the 2016 growing season was winter rain, some succor after three hard years of drought. "It was a dry January and February, but then we got a significant amount of rain in late February and April," said Jeff Mangahas, winemaker at Williams Selyem winery in the Russian River Valley. The drought still pushed an early bud-break, but the spring rains slowed down the ripening process.
"The plants were a lot happier this year," said Mangahas, who started picking on Aug. 10. "From a vegetative-cycle perspective, it was a very good growing season."
Still, as many Californians are aware, it will take a lot more sustained rainfall for the region to fully emerge out of the drought. "The rain we got this year was good for the vines, but it didn't recharge our aquifers," said Steve Ledson, owner of Ledson Winery & Vineyards in Sonoma Valley, who began harvesting Chardonnay on Aug. 14. "My personal opinion is that it's going to take several more years."
Elsewhere, the still-dry landscape had catastrophic consequences. For the second year in a row, Lake County was ravaged by wildfire. One winery in Lower Lake, Terrill Cellars, burned down. For others, the Clayton Fire threatened to disrupt the beginning of harvest. Six Sigma Ranch south of Lower Lake, for example, had to evacuate last weekend; the fire missed the property by less than 2 miles.
Smoke taint, which was a problem in 2008, does not seem likely; proximity to fire does not necessarily mean lingering smoke. "This year and last year, we had very little smoke on our property," said Christian Ahlmann, Six Sigma's vice president. "I don't think the wine will have any trouble."
Though it's still early to call it, 2016's potential is strong. "There's going to be good concentration of flavors," said Matt Stornetta, whose La Prenda Vineyard Management farms 1,000 acres of vine in Sonoma County.
Michael McNeill, director of winemaking at Sonoma Valley's Hanzell Vineyards, agreed. The one possible challenge at Hanzell, said McNeill, is that the acidity is a little lower than expected, "so we're going to have to balance that out with the ripeness level."
It remains difficult to draw conclusions about weather patterns for future vintages, however. Who knows what's "normal" anymore? Twain-Peterson points out that just a few years ago — 2009, 2010 and 2011, when there was plenty of cold and rain — we were talking about the pattern of late harvests. Chalk it up to California's ever-unpredictable meteorology.