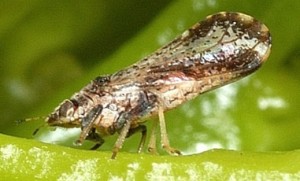 By Kristen Powers
The fight continues to protect Kern County's (and California's) citrus trees.
On Wednesday, over 100 students and community members went to the Bakersfield College Farm to learn how they can help keep trees safe from the Asian Citrus Psyllid.
The Citrus Pest and Disease Prevention Program partnered with Bakersfield College to host the free event. It informed community members about the citrus tree pest and how the county is working to eradicate it.
One of the speakers was Victoria Hornbaker, who is the Citrus Program Manager for the Department of Food and Agriculture (CDFA).
"The more people that we get trained on what the Psyllid looks like and what the symptoms of the disease look like, the more eyes we have out there looking for it and the better control we can get," Hornbaker said.
Taytanya Smith, an Agriculture student at Bakersfield College, said she came to the event because she is concerned about the citrus trees in Bakersfield.
"We eat a lot of citrus and there is a lot of citrus growing here and we can't live without it, so it is really good to know what is going on with the plants," Smith said.
Here are tips from the CDFA to keep citrus trees safe:
– Inspect trees for Asian Citrus Psyllid and Huanglongbing
– Do not move citrus or citrus plants between different communities
– Do not move things specifically from Los Angeles because the disease has been found in Los Angeles county
– Buy citrus plants locally and from a reputable nursery
– Continue to work with the county Agricultural Commissioner's Staff and the CDFA staff when out hanging traps, surveying trees or doing the treatments to prevent the pest from building up
The CDFA said they will send an inspector to your home to look at your trees or you can contact your local county agricultural commissioners.
If you spot pests or disease on your plants, or want your trees checked, call 800- 491-1899.