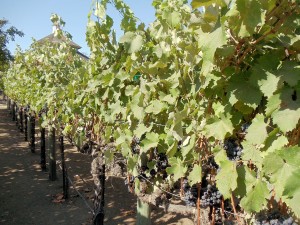 By David Gelles
EXCERPTED
On a misty autumn morning in Sonoma County, Calif., Katie Jackson headed into the vineyards to assess the harvest. It was late in the season, and an army of field workers was rushing to pick the grapes before the first rains, however faint, began falling.
But on this day, Ms. Jackson, the vice president of sustainability and external affairs at Jackson Family Wines, was not just minding the usual haul of cabernet, chardonnay and merlot grapes. She also checked on the sophisticated network of systems she had put in place to help crops adapt to a changing climate.
As California endures a years-long drought, the Jacksons, like other winemakers, are grappling with new realities. Grapes, though a surprisingly resilient crop, are ripening earlier. Nights are warmer. Aquifers are running dry.
The Jacksons are going beyond the usual drought-mitigation measures. They are using owls and falcons, to go after pests drawn by the milder winters. They are finding new ways to capture rainfall. And since fossil-fuel consumption is one of the biggest drivers of climate change, they are trying to become more energy efficient, in part through the use of old-school farming techniques.
Climate change is forcing the Jacksons to confront questions both practical and existential: Can you make fine wine with less water? Will good grapes still grow here in 20 years? What will become of an industry central to California's identity, one that says it contributes $114 billion a year to the nation's economy?
————————————-
So far the drought has not wreaked havoc on the California wine business. No harvests have been destroyed and quality remains strong. Moreover, many of the Jackson vineyards are in pockets of the California coast that benefit from the cool, humid fog.
But the challenges here are hardly theoretical. Already, climate change is threatening the world's coffee supply. Several reports suggest that rising temperatures around the globe could imperil major winemaking regions​ in the coming decades. One study suggested that by 2050, many regions in Europe, including much of Italy and swaths of Southern France, could become unsuitable for wine grapes. The same study suggested that California production could fall by 70 percent by the century's midpoint.
———————————-
The clearest sign of the Jackson family's efforts can be found in the network of more than 100 reservoirs scattered across its vineyards. Some have cost as much as $1.5 million to build.
On this morning, Ms. Jackson was visiting a reservoir on the sloping hills of the Stonestreet Estate Vineyards. The property is home to 800 acres of merlot, cabernet and chardonnay grapes, and another several thousand acres of uncultivated land.
Though it was late in the summer, the reservoir, which draws groundwater from a well, was still full. Two deer were drinking at its edge. The reservoir is connected to a gravity-fed drip irrigation system that pulls the water down the hills and through the vineyards. It now provides most of the water for the winery, which previously relied on wells and rain.
"We've seen a really sharp decrease in rainfall," Ms. Jackson said. "Having these in place meant we were able to have enough water to get us through the year. It's the biggest thing we've done to deal with the drought."
———————————–
As California heats up, winemakers are confronting new challenges large and small — some very small.
Mice, voles and gophers love vineyards. "We're seeing more pest pressures due to warmer winters," Ms. Jackson said, walking through rows of cabernet grapes. Another emerging issue: Grapes ripen earlier, and swallows and crows are eating fruit before the harvest. "It's a big problem," she said.
That explains the owls. Sixty-eight boxes are occupied by hungry barn owls; during the harvest, a falconer comes to some vineyards every day, launching a bird of prey to scare away other birds with a taste for grapes.
——————————
The Jacksons have begun analyzing their crops with increasingly sensitive tools. Ms. Jackson recently installed devices that measure how much sap is in the vines. They transmit the data over cellular networks to headquarters, where software calculates how much water specific areas of vineyards do or don't need. "Data-driven farming," Ms. Jackson said.
The Jacksons are also monitoring their crops using drones equipped with sensors that detect moisture by evaluating the colors of vegetation. The wrong color can indicate nutritional deficiencies in the crops, or irrigation leaks.
Not all the changes being made on the Jackson vineyards involve advanced technology. Some are simply ancient farming techniques that the drought has made increasingly relevant.
Field hands plant cover crops, like rye and barley, between every second row of vines, to help keep the soil healthy. The family is stepping up its composting program. Pressed grapes are composted, then placed beneath rows of vines, since the organic matter is better at retaining moisture than soil.
———————————-
Ms. Jackson is overseeing an ambitious groundwater recharge project. This winter, the company plans to capture storm water runoff and flood a large, flat vineyard near its La Crema winery. If all goes as planned, the water will seep down and help replenish an aquifer from which the farm draws.
"My family knows we aren't out of the drought yet," Ms. Jackson said. "There's still a lower snowpack. There's less groundwater in the Central Valley."