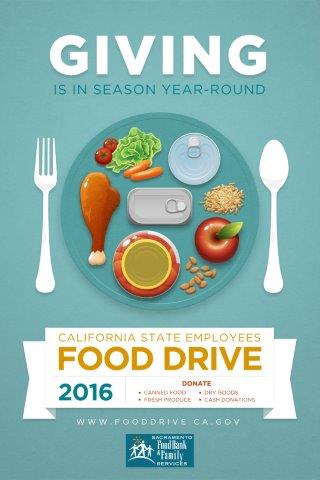 This month the Planting Seeds blog is featuring stories on food security, nutrition, and efforts to reduce food waste. CDFA's Office of Farm to Fork is committed to helping all Californians access healthy and nutritious California-grown food by connecting consumers, school districts, and others directly with California's farmers and ranchers.
Final totals from the 2016/17 California State Employees Food Drive indicate that an ambitious goal of 750,000 pounds of food was not only met, but exceeded by more than 14-thousand pounds, for a total of 764,038 pounds of food donated for needy families! That's 382 tons of food, enough for more 636,000 meals!
CDFA and its Office of Farm to Fork coordinated the food drive from late September to early February, along with their partners at the Sacramento Food Bank and Family Services and 108 different assistance agencies statewide. While much of the donated food was distributed through Sacramento, more than 100,000 pounds of food were donated to food banks and pantries outside the capital-area, eventually ending up on the tables of needy families throughout the state.
"I am impressed each year with the level of compassion and commitment that employees display when they donate to the food drive," said CDFA Secretary Karen Ross, chair of the food drive. "Food brings people together, in particular during the holidays, when families and friends gather around the table. This program is so important in helping to make that happen for families that may need a little boost."
The need in California is substantial. According to the California Association of Food Banks, 5.4 million Californians contend with food insecurity, which is defined as the occasional or constant lack of access to the food one needs for a healthy, active life. More than two-million of those people are children. That need is what motivates California state employees to commit to this effort each and every year.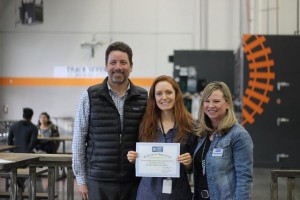 Each year the Food Drive holds a wrap-up party with awards to highlight steps agencies have taken to make the drive a success. The Board of Equalization received an award for the greatest weight-volume of donations, totaling 166,689 pounds of food. Two new award categories have been added – for most creative fundraiser and for the biggest increase in donations from the previous year. CalEPA took home the award in the first category with its "Dream It, Build It, Give It" competition among employees building structures out of donated food. The Sacramento/San Joaquin Delta Conservancy was honored for having the largest year-over-year increase, upping donations from 18 pounds to 912 pounds.