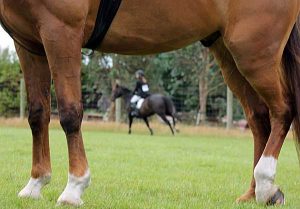 Common sense is the first step to effective biosecurity for horses, according to a university professor who consults in the field.
Professor Roberta Dwyer, with the Department of Animal and Food Sciences at the University of Kentucky, says horse owners must take personal responsibility for reducing risks of equine infectious disease outbreaks.
"One rub rag used to polish several horses' muzzles prior to entering the show ring can be the weak link in biosecurity," she says, by way of example.
"Allowing show ponies to sniff noses at the entry gate 'to get acquainted' is an effective way to spread respiratory disease."
Dwyer, writing in the latest issue of Equine Disease Quarterly says newly implemented vaccination and isolation facility requirements for horse-event venues provides another layer of protection, but cannot take the place of an implemented farm biosecurity plan.
She says biosecurity guidelines from reliable resources are readily available on the internet and in printed materials.
"The word 'guideline' should be emphasized," she adds. "Protocols and disinfectant products used in a university equine hospital that has painted concrete stalls, drains, and a cadre of well-trained personnel whose sole responsibilities are cleaning and disinfecting stalls might not be appropriate or practical for a different equine facility.
"The environments are different; the horses' risks are different (hospital patients vs. healthy horses) and the types of pathogens likely present are very different."
Dwyer says the best biosecurity plan is one tailored to the facility and environment, the horses, and the risks.
"Risks are the types of pathogens of concern (horse show vs. a broodmare foaling barn) , as well as the volume of human and horse traffic at the facility (busy horse sales venue vs. closed herd of retirees) .
"Obtaining biosecurity information from reliable resources is also critical.
"I was amazed at how much interesting (and often inaccurate) information is available regarding biosecurity."
She cites an online article she found on the dangers of mosquitoes to horses since they can transmit West Nile virus to horses, which is true. However, it also referred to the chikungunya virus being deadly to horses, which is false. The virus is not known to cause disease in horses anywhere, let alone be a deadly one.
"Somehow I was not surprised that the origin of the article was a manufacturer of insecticides.
"While insect control is part of a comprehensive biosecurity program, scare tactics are not effective or ethical marketing strategies.
"In another article on biosecurity, the author referred to a disinfectant type that was the 'gold standard' of disinfectants. However, there is no 'gold standard' of disinfectants for horse facilities.
"Different disinfectants have different capabilities of killing different pathogens under different environmental conditions (hard water, cold environmental temperatures, organic matter, etc.).
"One of the broadest spectrum disinfectants is bleach. However, bleach is readily inactivated in the presence of organic matter (soil, manure, etc.), and is most effective on hard, nonporous surfaces that have been thoroughly cleaned and are free of organic matter.
"Most commercially available disinfectants with label claims for equine pathogens have been tested in 5% organic matter, which still means a very, very clean surface."
Dr Katie Flynn, an equine veterinarian with the California Department of Food and Agriculture, discusses biosecurity at horse events in the same issue.
She says a disease-related "perfect storm" occurs when risk factors and a pathogen successfully interact, resulting in the introduction and spread of an infectious organism among a susceptible population.
She says, in equine events, a perfect storm is plausible if:
Susceptible, stressed horses are exposed to an infectious disease agent;
The conditions and environment at the event support transmission and infection;
The pathogen rapidly spreads throughout the animal population on the premises.
High-risk practices at events include commingling horses of unknown health status, stabling horses in
close proximity, tying horses to fences outside of the arena, using shared water sources, the use of communal wash racks, and exercising horses in confined spaces.
"Most equine event venues and facility layouts allow exhibitors easy, direct access to competition/
exhibition areas. Under such circumstances, many shows have inadequate or non-existent isolation
facilities for horses displaying signs of disease.
To address this concern, from December last year the US Equestrian Federation requires that competition management have an isolation protocol for horses suspected of having an infectious disease.
"Isolation of a clinically affected horse is a critical first step in disease outbreak control," she says.
"It is essential to identify potential areas for isolation of sick horses in an area away from the remainder of the equine population."
Any advanced identification of appropriate alternate stabling facilities will allow for rapid isolation of a sick horse and decrease the risk of potential disease transmission, she says.
In addition to adequate isolation, basic biosecurity practices are necessary to prevent pathogen introduction and spread.
Routine biosecurity practices should limit or avoid:
Horse to horse contact;
Human contact with multiple horses;
The use of shared communal water sources;
The use of shared equipment that has not been cleaned and disinfected between uses.
"Additionally, daily monitoring of horse health on the event grounds should include twice daily
temperature evaluations and observation for clinical signs of disease. Horses with a temperature
above 101.50F or that exhibit clinical signs should be reported to a veterinarian and/or event official
and be immediately isolated away from all other horses."
Flynn says a biosecurity toolkit for equine events has been developed to provide guidance on the development and implementation of biosecurity plans and isolation protocols.
"The toolkit provides guidance for the assessment and development of a biosecurity plan that addresses specific disease risks at a particular event and venue.
"Implementation of a biosecurity plan for every equine event will help protect the health of the national equine population."
See the original article on the Horsetalk.co.nz site here.